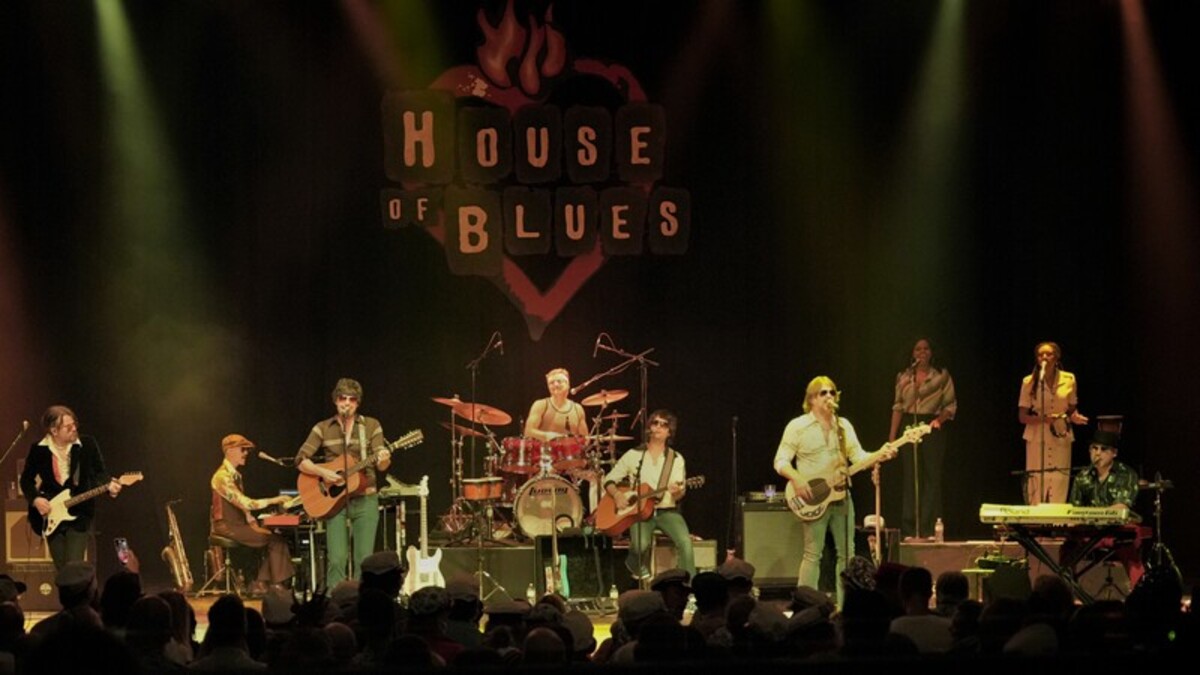 Yacht Rock Revue
House of Blues, Orlando, Florida • May 8, 2022
by Michelle Wilson
Yacht Rock Revue made a triumphant return to House of Blues Orlando on Mother's Day, and what a Mother's Day it was! If leisure suits, ruffled shirts, polyester, and oversized shades are your thing, then this is the band for you. The Atlanta-based ensemble, which basically started as a joke in 2007, has morphed into a successful touring troupe with a faithful following that plays to sold-out venues everywhere. Recreating all those nostalgic soft pop hits from the '70s and '80s that everyone knows and loves, this multi-talented collective delights fans of all ages. The "Hot Dads In Tight Jeans" (who boast an album of originals with the same name) attract concertgoers who gleefully sport yacht "skipper" hats. These are not just run-of-the-mill players, either. These dudes are the real deal and always keep the massive crowd of "anchorheads" engaged. They have even shared the stage with many of the musicians whose music they perform.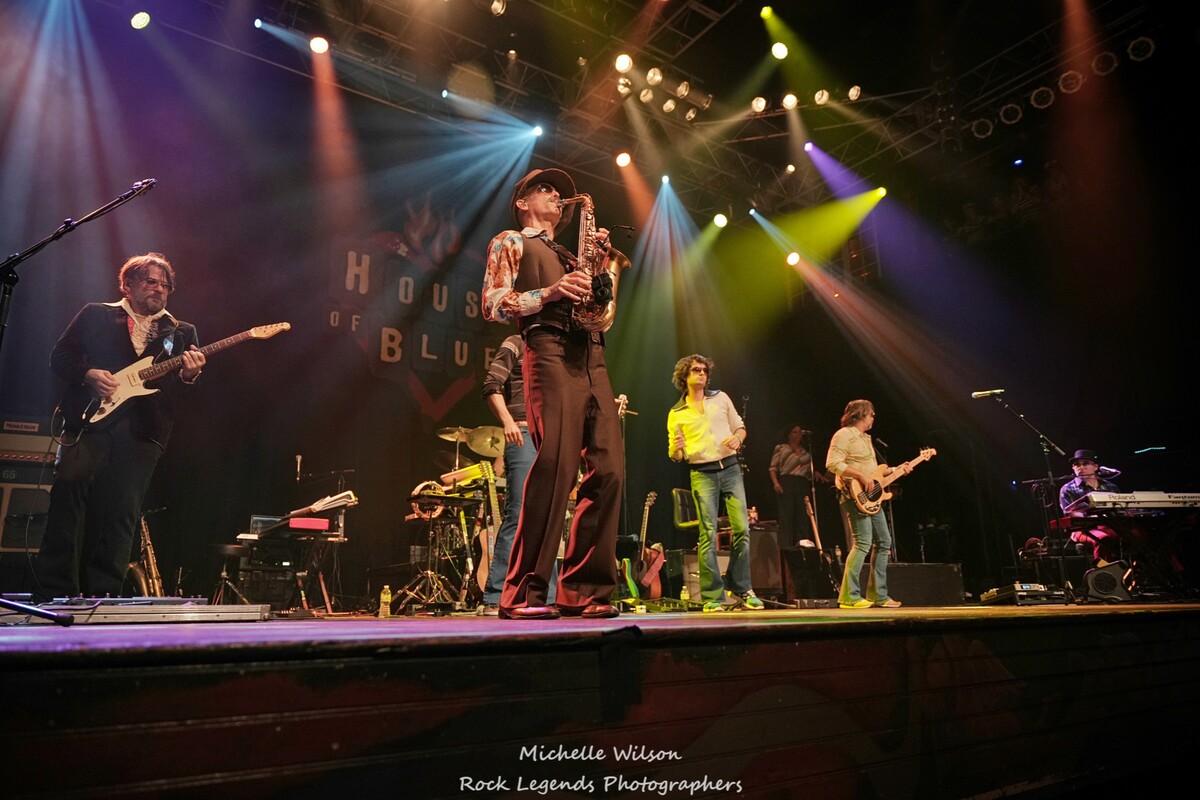 Yacht Rock Revue includes frontmen Nicholas (Nick) Niespodziani (guitar/percussion/vocals) and Peter Olson (guitar/percussion/vocals), Mark "Monkeyboy" Dannells (guitar/vocals), Greg Lee (bass/vocals), Mark Bencuya (keys/vocals), David Freeman (saxophone/keys/EWI/vocals), and Keisha (vocals) and Kourtney (vocals/percussion) Jackson, a soulful mother/daughter backup duo who also shine on lead vocals. Ganesh Lee, twin brother of bassist Greg Lee, admirably filled in on drums following the recent departure of the band's long-time drummer, Mark "Question Mark" Cobb. There is no word yet on a permanent replacement.
Taking the stage at 8:42pm while the Star Wars theme song played through the house system, the band took their spots and opened strong with Kenny Loggins's "Heart To Heart" as the packed house cheered and the evening began. Everyone looked and sounded phenomenal, and Niespodziani expressed it perfectly. "It's good to be back! The vibe is strong in Florida tonight! There's so many familiar faces!" After Michael McDonald's "What A Fool Believes," Niespodziani once again showed some love for the crowd. "I'm feelin' you, Florida! Let's get into it!"
Hit after soft-rock hit lit up the night with killer guitar and sax, dazzling harmonies, and a monster light show. Niespodziani shared that he might sit to play guitar and would not be doing any high leg kicks after an Achilles tendon injury, but he definitely snuck in some low ones while his bandmates pulled off some higher leg lifts. The band mixed in two of their originals from their aforementioned album, "Step" and "Bad Tequila."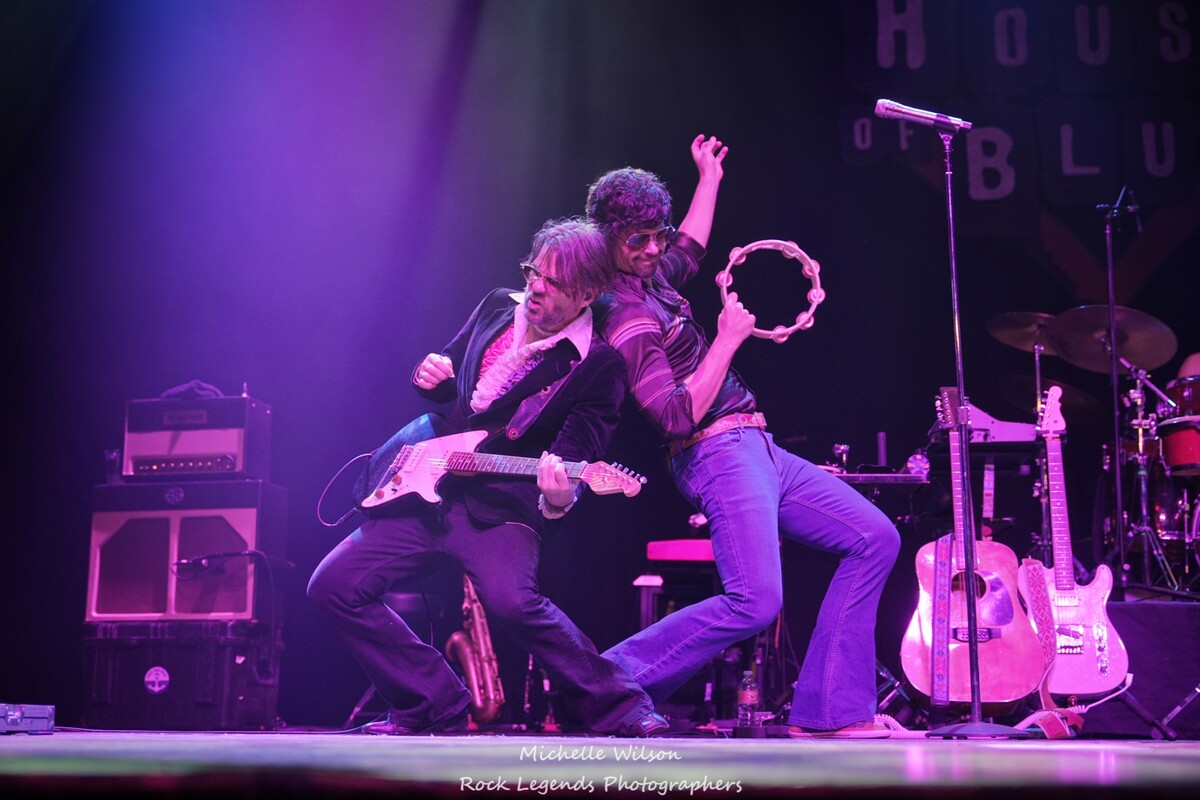 Everything was brilliant, but a few standouts included Steely Dan's "Peg" featuring Mark Bencuya on lead vocals, Toto's "Rosanna," Stephen Stills' "Love The One You're With," America's "Ventura Highway," and The Eagles' "One Of These Nights," all with insane harmonies. Following "Rosanna," Niespodziani joked that he liked playing bongos sitting down because it looked like he had T-Rex arms. He also playfully renamed the band "Blues Rock Revue" when some blues riffs started between songs and segued into an impromptu snip of Journey's "Lovin', Touchin', Squeezin'."
Other stellar fan favorites included Toto's "Africa," Paul Simon's "You Can Call Me Al," Christopher Cross' "Ride Like The Wind," and Gerry Rafferty's "Baker Street," complete with Freeman's scorching sax.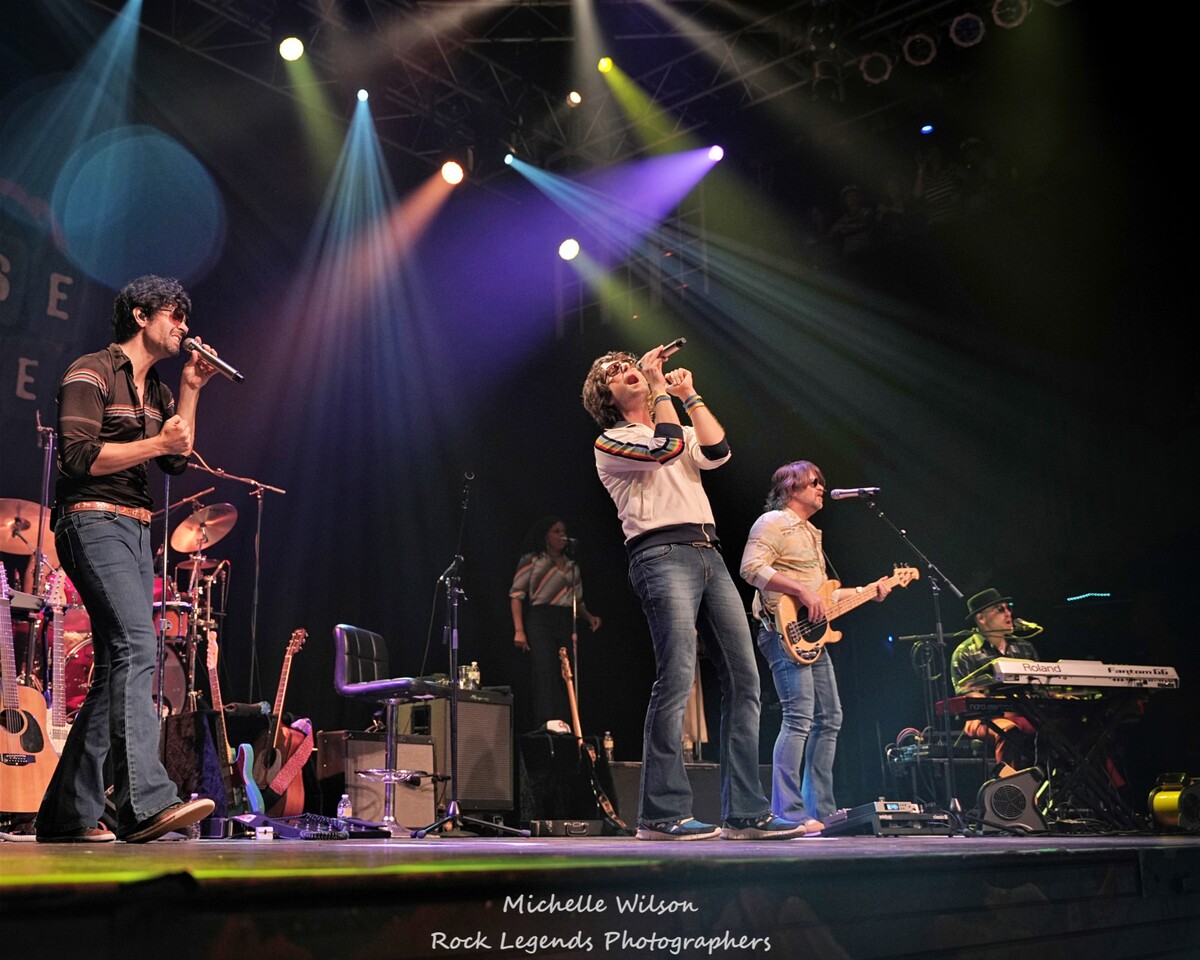 Keisha Jackson absolutely slayed Tina Turner's "What's Love Got To Do With It" (Terry Britten and Graham Lyle) while her daughter, Kourtney, effortlessly nailed the high notes of Deniece Willams's "Let's Hear It For The Boy" (Tom Snow and Dean Pitchford). These two singers are as much a part of this band as anyone and they add so much value to the overall allure.
New to their rotation and slated to be released as a single in a month was George Benson's "Give Me The Night." The band was extremely interactive during the two-hour set and the audience members sang along throughout the evening. When the last notes of Gerry Rafferty's "Baker Street" finished at 10:34, Niespodziani and company waved as they made their way off stage. "You guys have been amazing! We're getting our sea legs under us! We love you, Orlando! Thank you so much!" Briefly exiting, they reappeared to finish up with the Queen/David Bowie cover "Under Pressure" and their show staple, "She's Gone," from Hall & Oates.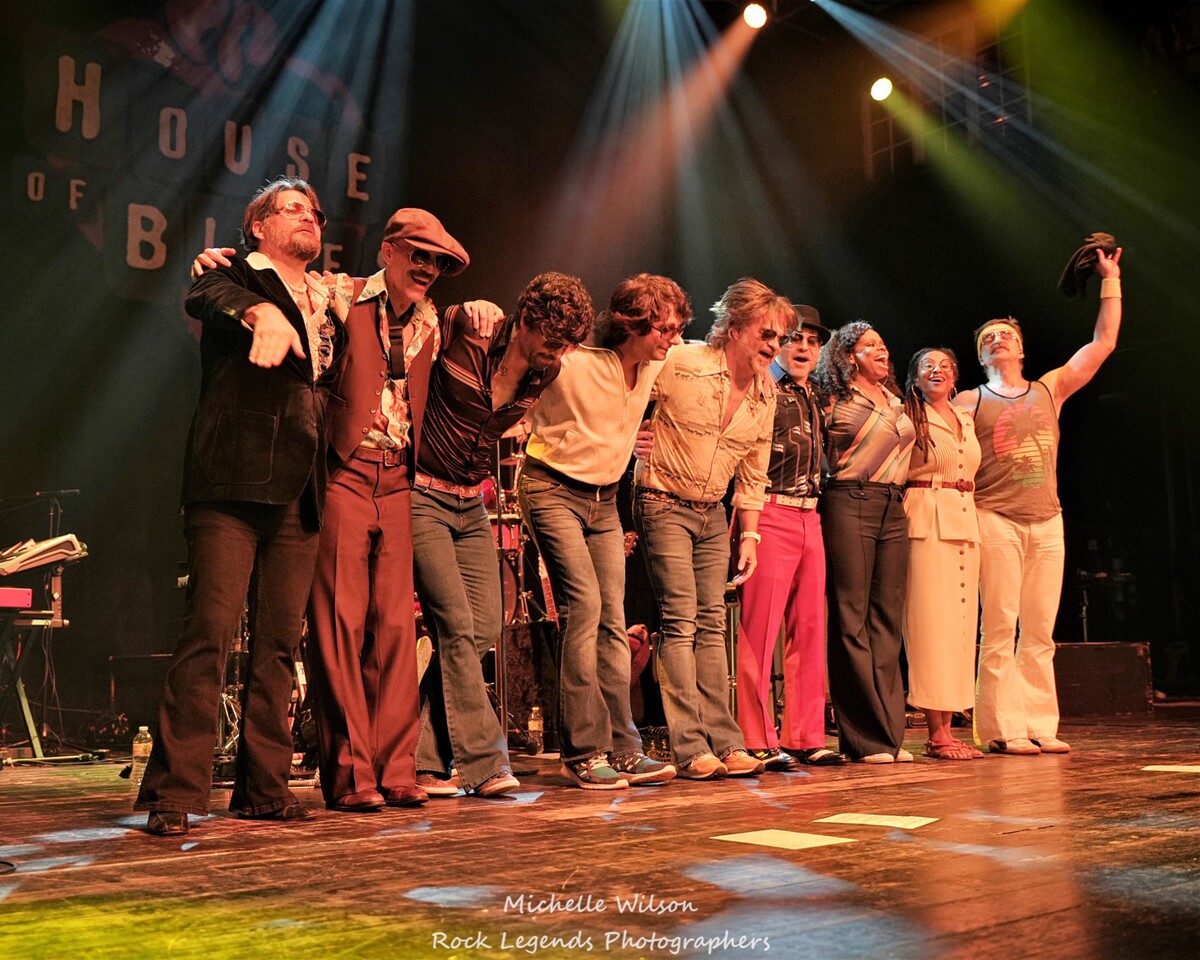 This was my second time covering a Yacht Rock Revue show, and I officially consider myself a loyal member of the "Nation of Smooth." These guys don't need to sell it—it sells itself. But it's also a testament to their musical prowess and overall appeal. If you want to get out and hear live music while throwing it back old school, then score yourself some tickets, dig out your bell bottoms, and sail down memory lane with Yacht Rock Revue.
Check out the full gallery of photos from Rock Legends Photographers.
---