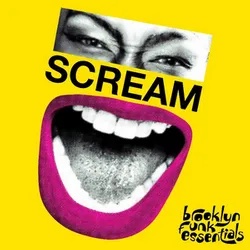 Brooklyn Funk Essentials
Scream (Dorado Records)
It's been two years. It's still summer. So, it's time to rub two years of rheum from your eyes and get out and socialize. Fortunately, Brooklyn Funk Essentials has dropped a new single, and hopefully, it's an indication of more to come.
"Scream" is an invitation from vocalist Alison Limerick to be true to yourself and "Do what you wanna do. Say what you really wanna say." And with all its danceable jazz and funk hooks, it's just what we need after over 2 years of being cooped up from COVID, compounded with the contentiousness of contemporary politics.
You could say the multi-cultural and eclectic Brooklyn Funk Essentials is a designer group unique to New York (or New York in the mid-1990s) or the brainchild of Arthur Baker or Lati Kronlund. But as a collective, Brooklyn Funk Essentials operates on its own momentum and has every intention of sticking around, relevant and forceful as ever.
It's time to get outside, be amongst the throng, find your truth, make your path, and dance. "Don't let anyone tell you who you gonna be."
---