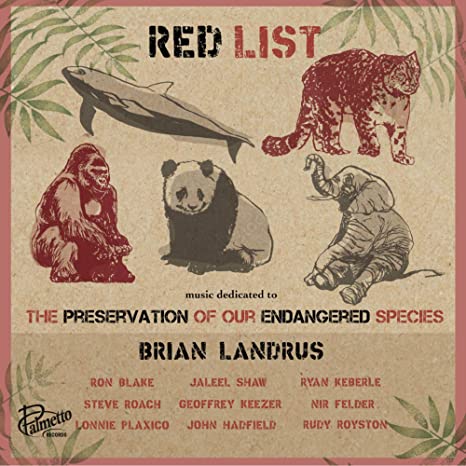 Brian Landrus
The Red List
BlueLand Records
Brian Landrus is a master of the low down. He is one of the few bandleaders in jazz making bass clarinet and baritone sax their main instruments. Eric Dolphy and Ken Vandermark bust out the bass clarinet occasionally to give their music another flavor, but Brian lives on the low end full time. As a composer, Landrus writes accessible, groove-oriented jazz.
On The Red List, the tunes are deceptively smooth with spicy surprises woven throughout. "Nocturnal Flight" opens with a mellow unison horn melody evocative of the graceful flight of a migrating flock. When the solos by Landrus and pianist Geoffrey Keezer kick in, it reminds me of watching a flock swoop and dive over the Everglades. For me, the coolest part of The Red List is Brian cutting loose on his low-end reeds. "Giant Panda" is a solo outing for bass clarinet. Songs like "Vaquita" have gorgeous passages that make you want to forget about the treble clef.
The Red List is dedicated to the preservation of endangered species. The song titles refer to endangered creatures like the leatherback turtles, tigers, elephants and doves. Other songs make reference to endangered landscapes like the Congo Basin and the deepest realms of the oceans.
---