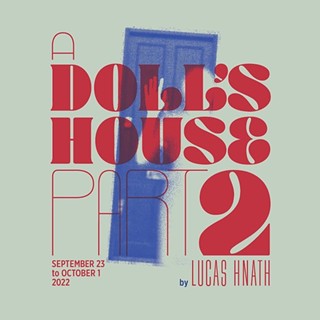 A Doll's House, Part 2
Annie Russell Theater at Rollins College • Winter Park, Florida
Written by Lucas Hnath
Directed by Thomas Ouellette
Starring Ani Henry-Walker, Nicholas Juergens
Carl F. Gauze
In 1879, Norwegian writer Henrik Ibsen unintentionally wrote the first Western Feminist play: A Doll's House. Nora (Henry-Walker) is the wife of banker Torvald (Juergens). Their relationship is standard for a well-off household of the day, but Nora feels unhappy and unloved. She eventually walks out on Torvald, and this first part of her story was considered a great outrage in 1879 Scandinavia.
Tonight's performance is set 15 years later. Nora is now a best-selling author under a pen name, but there is one loose end: Torvald never actually divorced her, leaving her in a legal limbo. Nora returns home to beg for that signature releasing her. First she meets the housekeeper Anne Marie (Anaise Cutter) ,who essential abandoned her own children to raise Torvald's family. Next she meets her own, now adult daughter Emmy (Kalani Senior), who suggests a way out but with its own awful repercussions. And lastly Torvald appears, angry but still in love with her, and there's the fact he never got over his shame. It's a soap opera, and the stakes seem weird in today's world, but the question of "can you truly ever split up" remains unanswered here.
This production is on a clean, minimalist set that reflects modern Northern European design. White on white furniture, a touch of electronic effects, and elaborate costuming sets the scene. The story is clear: men do as they will, women do as told by said men, and there is little appeal. Nora is an imposing figure until contending with a rather stiff Torvald and his desire to push her back into the "correct" role. Anne Marie's children seem worst off of all, yet the most worldly. The story is as simple as the set, but the issues here predict a change that did not fully occur for a century. Public morals and how you present yourself lurk in every corner, as does how much can you profit from sin.
I will say it's educational, and while times may have changed, nothing prevents a reversion in our arrangements, thus making this a cautionary tale.
---