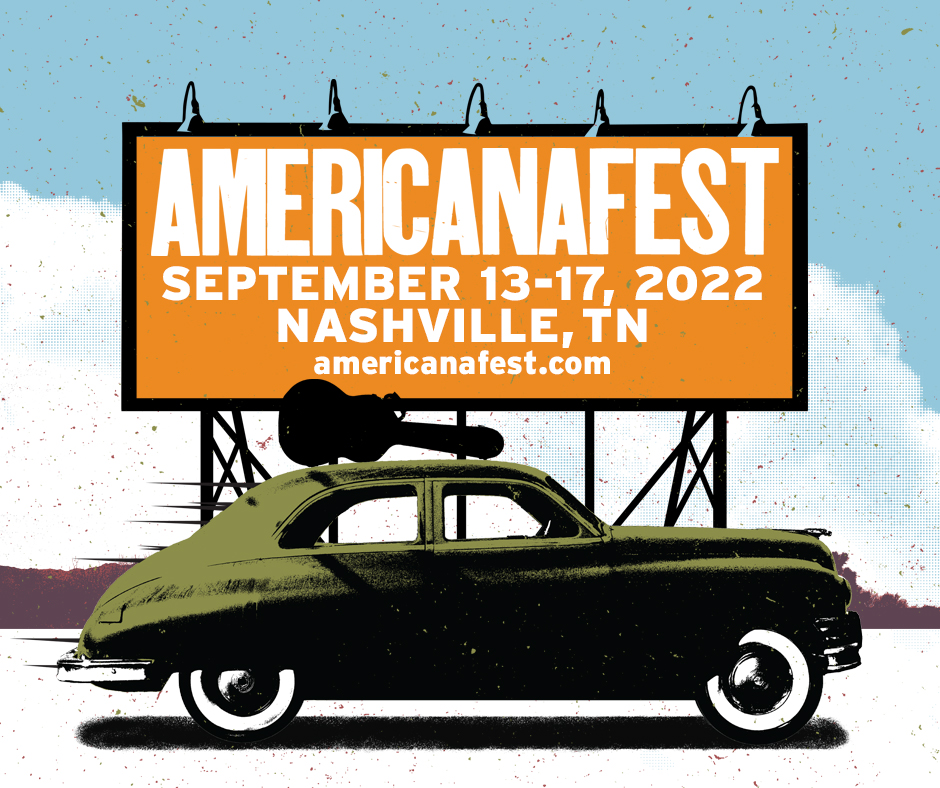 AmericanaFest 2022
From Legends to Newcomers
Nashville, Tennessee • September 13-18, 2022
by Judy Craddock
It was a homecoming of sorts, to return to Nashville for AmericanaFest 2022, the industry conference and showcase week hosted annually by the Americana Music Association. The town where I grew up has become unrecognizable in parts, especially downtown and "The Gulch" where our parents warned us not to go, but we did anyway. Church group coffee house Wednesday morphed into a sneak over to the Exit/In, to hear jazz and order Coke so they'd let us stay.
I managed to get back to the Exit/In, this time as a grown-up. At 50 years old, the venue is in danger of closing, as the building, under new ownership, barely escapes the unstoppable steamroll of development. Yet the spirit of this place cannot be destroyed. Charles Wesley Godwin held the crowd in the palm of his hand, singing along to every song, drinking non-craft brew, and soaking up the history in the walls. His publicist stood nearby, beaming like a proud parent, leaning over with a hug and smile as we took in this magic like first-timers. I looked over to the place where I sat as a teen and heard a jazz trio in the late '70s. The booth is gone, but the vibe is the same.
I was home, and even in its current state as a destination bachelorette party town, I was able to ignore that clutter and indulge in five days of industry kum-ba-yah, showcases, and fried food. My goal was to seek out these darker corners, discover new talent, meet like-minded music geeks, and let the crowds devour the marquis-standard names at venues that had lines hours before start times.
I should have ordered the salad.
Walking into 3rd and Lindsley, one of Nashville's iconic small venues, at 11:00 AM on Friday morning just reeks of a day-drinking opportunity. I didn't. The cheerful server walked over with a paper menu showing typical bar fare: burgers, sides… I saw catfish and hush puppies about halfway down the page and in a fit of nostalgia for this Southern staple, I ordered a plate and some iced tea.
Worst catfish platter I've ever had in my lifetime of eating catfish. I ate the fries and hushpuppies, not having the heart to tell the kitchen. They were all so NICE. I just couldn't.
This would be my one and only questionable experience in food or music for the entire week. The remainder was nothing short of joyous.
The scheduled acts at 3rd and Lindsley were part of my goal to hear lesser knowns. Americana Vibes and Empire Agency presented this "day party" (minus the catfish). I caught The One Eighties, an alt-pop/Americana duo whose talent deserves more attention than the sparse crowd that these off-hour showcases can bring. Rebekah Todd followed with a pleasant if not slightly awkward set. Her songwriting and voice are stunning, but the between-song banter steered into TMI territory that is hard to pull off unless the artist is an icon or at least headed that way. I made a graceful exit immediately after Tejon Street Corner Thieves dished a rowdy set that was more comedy than musicality. Still, this Colorado-based "trashgrass" trio can bring the party, even at noon in a venue that isn't known for lunch with iced tea, but for some of the best acts in and around Nashville.
Sit a Spell
On Tuesday night, just after my arrival at BNA, I was in a "pinch-me" state of bliss sitting on the laminate merch table at the back of The Station Inn, surrounded by the smell of charred pizza crust, while some of those marquis names blew up the stage in a packed house. The only "seat" left was the back table next to the kitchen, where the stage talent also helped themselves, popping in and out like they had punched the clock between sets. Bronwyn Keith Hines told me I should come check out her set with Molly Tuttle later in the week. I've never met her, but the conversation just kind of fell out as though we were at a party where everyone knew each other. That's how friendly this spot is. If you are inside the door, you are family. Sit down, order a slice, and stay awhile.
Talking the Talk
During the day, there are a variety of panels geared toward industry folks, but fans with the full pass can also get up close and personal with favorites. "Taking a Long Look at the Indigo Girls," hosted by Ann Powers (NPR Music) was one of the highlights. Amy and Emily gave a relaxed and revealing interview in the Westin Nashville ballroom. Recounting their early years as a duo who dreamed of opening for Siouxsie and the Banshees, their days at Emory University, and feeling "alternative" before "alternative" was a thing, these two gave us an intimate, honest look at the challenges still faced by female artists as well as the LGBTQ community.
The Americana Music Association emphatically embraces and promotes diversity and inclusion as part of its mission. This was evident in so many of the industry panels, including a rowdy set by The Dropkick Murphys, as they seemed both surprised and delighted to be rocking the mid-afternoon pants off a hotel ballroom, with teaser performances from their latest, This Machine Still Kills Fascists, a tribute to a collection of "lost lyrics" from the late Woody Guthrie. Woody's daughter Nora reached out to the Boston-based band and they recorded the album in Tulsa. Hosted by Deana McCloud of Museum Collective, those of us who attended were treated to a great interview and a lot of fist-in-the-air fun as the band tested the PA system turned up to eleven.
Studio Time
The good people at Compass Records hosted "Hillbillies and Hot Dogs" at their newly renovated building in the Music Row neighborhood. I walked the three miles over and worked up an appetite for food-truck fare, ice cream, and a tour of the space with that "new house" smell. Upstairs, I made it past the beer table in time to hear sets by Rob Ickes & Trey Hensley followed by Steve Poltz, who made me laugh so hard my ribs hurt. The guy is a national treasure. Just minutes before his set I was talking to a nice woman in the back of this cozy room about traffic in San Diego and other random topics. He introduced her as a songwriter he was collaborating with and she left the room with a jaw-drop as they sang one of her songs together. These are the kind of random connections and conversations you will have at AmericanaFest. Pay attention. Enjoy the moment. The person you are chatting about traffic with might be an emerging artist winner on the Ryman stage next year.
The Winner Is… Everyone
The Awards and Honors Program, held at the "mother church," The Ryman, is a separately ticketed event but well worth the extra dough. As a taping for rebroadcast later, the three-hour evening will be whittled down to about an hour, but there were no complaints about the long sit on those wooden pews. From the Milk Carton Kids' dry humor as hosts, to tear-jerker moments as The Fairfield Four accepted the Legacy of Americana Award, Lucinda Williams showed what a graceful badass she is, and Brandi Carlile and Allison Russell teamed up for a stunning performance of "You're Not Alone," the joy from this night spilled out onto the sidewalk and outshone every neon sign on Broadway. A producer seated next to me wept more than once. The feeling was contagious. This night, this collective of performers and award winners, this six-lane highway of a music "genre" is really about unity, community, and belonging.
If there's a common thread to AmericanaFest, it is this: No one here is a stranger. Whether you attend as a fan or industry person, a big radio name like those from Sirius XM and NPR, or a small-town DJ and writer for Ink 19, you are welcomed and treated as family. Sit down, order a slice — or maybe the salad — and stay awhile.
AmericanaFest 2023 is scheduled for September 19-24. ◼
---