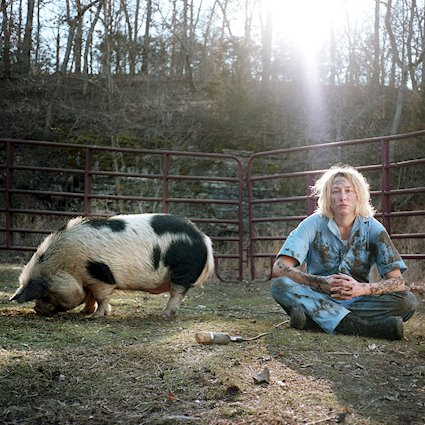 The Bobby Lees
Bellevue
Ipecac
There has been a lot of talk lately about rock and roll being dead. On most days, I would probably agree. But a few months ago, on one of my social media feeds, Mike Patton posted a video for an upcoming release for a band on his label, The Bobby Lees. I immediately looked them up and read that the likes of Henry Rollins and Iggy Pop were in their corner, and that their debut album, Skin Suit, was produced by Jon Spencer. So I couldn't wait to finally get my hands on their sophomore effort, the first from Ipecac Records.
Say good riddance to the rock is dead argument. Bellevue is 13 tracks of blistering punk rock/hard rock that doesn't let up, keeping your attention lyrically and sonically. Bellevue is a more confident record by the quartet of Sam Quartin (vocals/guitar), Kendall Wind (bass), McKinley Bowman (drums and the raddest last name in music), and Nicholas Casa (guitar). When I say confident, I mean that to me, they seem more comfortable as song writers and musicians. Not afraid to change up the tempo a bit, even going a bit burlesque on the track "Little Table." I also feel that Sam is really coming into her own as a singer and front woman. Her vocal range goes from the aforementioned song to absolutely ripping it on the title track and songs like "Ma Likes to Drink" and "Death Train." All of this wouldn't mean much without the incredible musicians comprising the rest of the band. Kendall Wind's fat bass sound goes hand in hand with Bowman's drumming to give them a solid rhythm section, and Nicholas' riffing cannot be overlooked. One common theme that is covered on a couple of songs is fakeness. Sam sings on "Hollywood Junkyard," "One pound of flesh, no you won't need the rest, we'll get more for you made. Now watch as your body and face disappear, oh it's gonna be great." And I applaud the band for the song "Greta Van Fake," a diss track about one of the lamest bands around.
If you have not listened to The Bobby Lees, they deserve your attention. They made a tremendous leap from their debut to their sophomore album, Bellevue, and I cannot wait to hear what they come up with in the future.
---