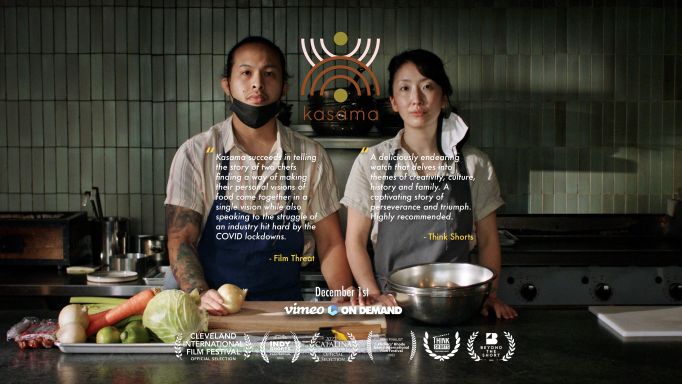 Kasama
directed by Nick Cavalier
starring Genie Kwon, Tim Flores
Here's today's philosophical question: Why don't you see many Filipino restaurants? We love all the other southwest Pacific cuisines: Thai, Vietnamese, Chinese, even Malay. But the Philippines, that huge, complex archipelago, remains a culinary black hole of potential deliciousness. And that's where Genie Kwon and Tim Flores step in.
Kwon and Flores met in the windy city of Chicago and dabbled in the arts, until they decided to hook up emotionally, and then economically. They opened Kasama in a tiny storefront in one of those edgy "not quite safe, not quite discovered" blocks, and quickly drew an adoring and adventurous clientele. Each has their own back story: Kwon's mother worried that she would never be happy, Flores groped for his place in life through a slew of odd jobs. But their physical union seemed to settle all that uncertainly, and the accompanying willingness to experiment and eat the errors pushed them into a new culinary zone.
Fortunately for them, Chicagoans are used to the polyglot diet and quickly found a new Asian strain of "yummy." Prices are… exciting as well, but they have garnered a few Michelin stars.
Check out Kasama, the film, on Vimeo on Demand, and perhaps drop by for the lunch menu. I'm a bit fuzzy on the street address, but it's Chicago — all the streets are on a grid, unlike the food.
---