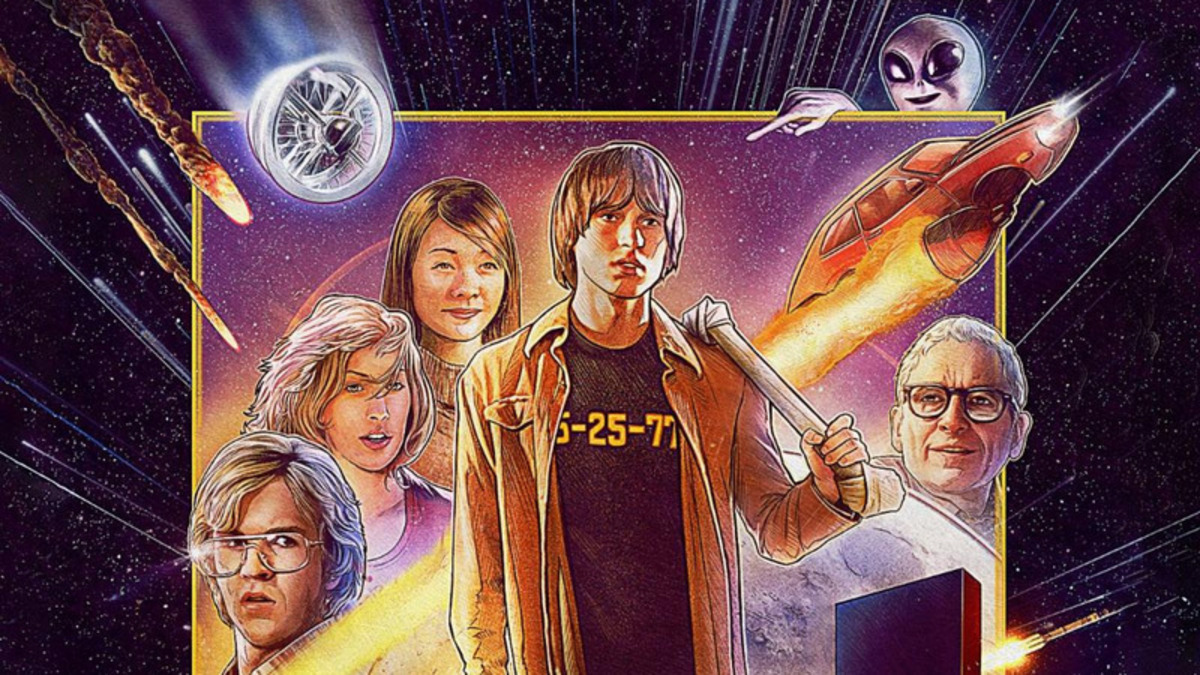 5-25-77
directed by Patrick Read Johnson
starring Patrick Read Johnson, John Francis Daley, Austin Pendleton, and Colleen Camp
MVD Entertainment Group
Want to succeed? Dedicate your life to something weird, and maybe you'll make it. Pat Johnson (Daley) loved movies and started making his own at an early age. One day he's caught painting his sister's horse with white wash — he just needed a zebra for his jungle adventure feature. And if that's what it takes to make it big, along with dedication, a supportive family, and maybe a big break.
In 5-25-77, rumors of a new sci-fi epic circulate in Pat's world, and there is a single copy making the circuit in rural Illinois. Can Pat get all of his high school friends into the first screening? That's what friends are for, aren't they? Naturally, the jocks find Pat insufferable, but he does have a girlfriend, Linda (Emmy Chen), and a proper sidekick in his mother Janet (Colleen Camp). While Pat struggles to treat his friend to the opening night experience, he also raises the money to go to L.A. There, he meets Herb Lightman (Austin Pendleton) and gets a tour of the Industrial Light and Magic Special Effects department. It's way better than he could ever imagine. Will this young man make it in Hollywood? Or will the naysayers win out, and the whole world not care a lick about him? Here's a one-word hint: Hollywood.
Films like this can drop into the maudlin bin, but 5-27-77 has heart and soul, and you really do want Pat to make it. The portrait of 1970s high school is spot on. I was in a similar school in a different state, and in both cases, the only life options were on the factory floor, dying in Viet Nam, immediate teen pregnancy, or alcoholism — or all of them, mixed up in a cocktail of midwestern desperation. The portraits of midwestern teen life are spot on. Pat's desire to get out resonates, and a supportive mom makes this a positive story packed with goofy high school hi-jinks, small town ennui, and car culture. Pat's opposite is tough guy Tony (Justin Mentell ). Tony's dad runs the junk yard, and that's all Tony will ever do. But even this bad guy here remains sympathetic. He'll be wrenching cars all his life, and when Tony strikes out at Pat, it's not meanness, he's just cementing his admittedly low status in small town America.
The oddity of the film revolves around Pat's prescient feeling that the Star Wars movie would be the monster social and cinematic landmark of the decade. His world does connect to the other successful sci-fi the day: Silent Running, Logan's Run, and 2001: A Space Odyssey. These all left their marks, but a lack of successful sequels prevented them from becoming the force for a bigger social happening. And this film acknowledges these other projects. Somewhere in the back end of the story, Pat offers the best and possibly only actual coherent explanation of the last scenes in 2001: A Space Odyssey. Even Stanley Kubrick didn't give us that bone. There are a few special features discussed in the commentary track, and this little coming-of-age piece really works, even in our sci-fi saturated universe. If you've seen all twelve Star Wars episodes, this just might help tie them all together in your mind and your innermost fanboy. And as early '70s films go, it's certainly one of them, but it's a fun look back on at least my own age of innocence.
---