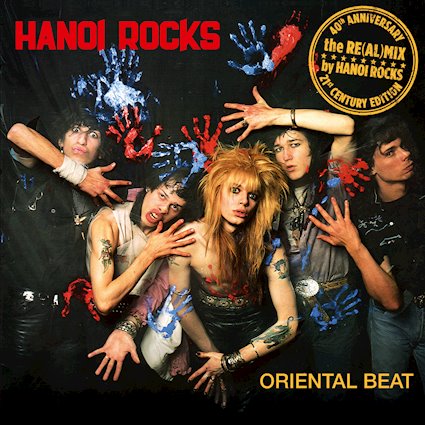 Hanoi Rocks
Oriental Beat: 40th Anniversary Re(al)mix
SVART
Nowadays, we don't think twice about punk and metal coming out of Finland, but in the heyday of punk, Finland might as well have been the moon. The Finnish band Hanoi Rocks might be a little obscure today, but theirs is a solid early punk sound with clear vocals and a few almost-hit tracks. A LOT of people played in this band over the years. The Wiki lists 20 names in the 1979 – 1985 incarnation and the 2003 – 2009 revival.
Oriental Beat: 40th Anniversary Re(al)mix is a reissue of Hanoi Rocks' 1982 release, and it captures the fresh energy of a band that has yet to break up or have a bass player OD on stage. Like so many Scandinavian bands, their English is excellent, and I would take them for an American band if I knew nothing else about them.
Title track "Oriental Beat" almost echos "We've Got The Beat" by the Go-Go's. It celebrates an Asian vacation at a time when Hanoi was a dicey town for tourists. "Teen Angels" takes a solid back beat and a tight guitar and makes punk magic. This tune is a paean to their early days, when the future was full of promise and no one had screwed them over yet. Ah, bright eyed youth! Next we have "Sweet Home Suburbia," a story-song about a girl who could have been The One, but she finds a better deal with the next guy in line. It packs the killer line, "They give me sex, they give me drugs, they give me all the love they've got." That's a line we can all rock out to, and these guys can do that rocking.
Highly recommended, and if you missed them in 1978, here's your chance to catch up on your aging-rocker cool coefficient.
Listen to the 1982 Oriental Beat.
---