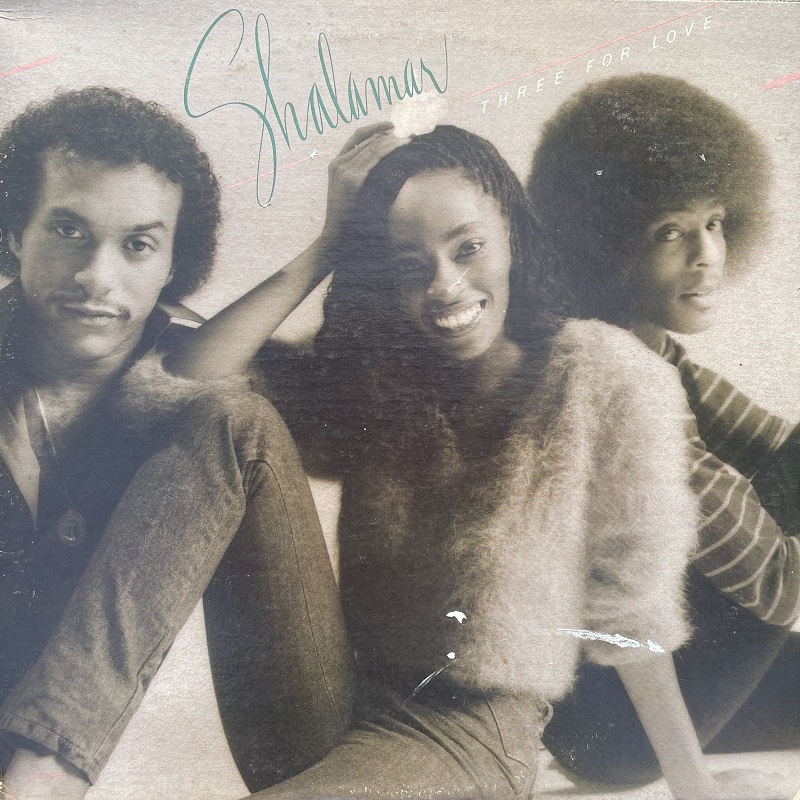 Garage Sale Vinyl: Shalamar
Three for Love / Solar / December 1980
by Christopher Long
"This ain't no Who concert!" the linebacker-sized Black man announced to the crowd of early bird fans who were pressing in. I'd become enveloped by a sense of panic as my three compadres and I were getting crushed against a security barricade just prior to the venue's doors opening at 6 pm. Like a mother hen protecting her four little (White) chicks, the man then commanded the crowd, "Ya'll back the fuck up!"
Thanks largely to our rather large "mother hen," we ultimately made it into the arena unharmed.
Memorial Day weekend, 1981, and there we were: four wide-eyed teenagers piling into my parents' 1980 Pontiac, setting sail on what would become a fantastic voyage.
In a matter of days, Ray, Connie, Rich, and I would be graduating from the hallowed "party hardy" halls of Satellite High School, located in the quaint little community of Satellite Beach, just south of Cocoa Beach on Florida's famed Space Coast. How on earth I ever managed to wrangle my mom and dad into allowing me to borrow the family station wagon for a bi-coastal Sunshine State excursion such as this escapes me still. Perhaps they deserved more credit than I gave them at the time. This would be our last HURRAH! — our final gasp of high school glory — and I guess that my tragically un-hip folks actually recognized and appreciated the potential, immeasurable value in the experience.
It possessed all the key characters of a classic John Hughes blockbuster: the jock, the princess, the model student, and me — the wannabe rocker. We were an unlikely, mismatched crew — random kids with seemingly little in common. At least that would have been true in today's super-sensitive, hyper-critical iUniverse. But these were simpler times — an era before communication "advancements" built up walls that actually push people away from each other. It was an age of innocence when being different, being unique was endearing. And back then, we communicated with each other, face to face, and with real words that formed complete sentences, unlike today's sophisticated teens. OMG, Ashley! The new Tay Tay is like, cray cray!
In today's "enlightened" culture, Ray and I would be the last two guys who would discover common ground. Destined for greatness, Ray was good-looking, well-dressed and well-liked — an athletic over-achiever who had amassed impressive academic stats. I, on the other hand, was a rather unkempt, long-haired rock dude who typically sported slightly stretched-out bootleg concert T-shirts. My personal academic schedule included two student aide classes, two drum classes, and a student government class. A bona fide under-achiever, I was destined for a certain future filled with professional disappointments, personal heartbreak, and an endless string of low-paying beer joint gigs.
But Ray and I did have one thing in common: our love for music — particularly our passion for R&B. As a kid growing up in Springfield, Missouri during the truly enlightened, shag-covered early '70s, I couldn't "hear" race. As a result, I identified with such classic R&B artists as the Ohio Players, Al Green, and Rufus as much as I did with the chart-busting rock acts of the day, including the Doobie Brothers, Grand Funk Railroad, and Lynyrd Skynyrd. Although by my senior year, I'd fully embraced hard rock — Van Halen, Ted Nugent, and KISS, Ray had been reigniting my former R&B fire by blasting Three for Love, the latest release by Shalamar, on his massive boombox cassette player in the practice room during our daily chorus class. So, when he suggested that we venture out together across the state to see Shalamar in concert at the legendary Bayfront Center in St. Petersburg, it actually was a pretty easy sell. "I'M IN," I replied, with little persuasion.
When we arrived at the Bayfront Center, our lifelong reality was turned upside down in very short order. The concert was a high-profile showcase for the hottest current SOLAR (Sound Of Los Angeles Records) artists: Carrie Lucas, Lakeside, the Whispers, and of course, Shalamar. Approximately 7,000 enthusiasts were in attendance for this indoor R&B "Woodstock" — 6,996 Black teens and 20-somethings from a less-than-privileged area on Florida's west coast, and us four White kids from a rather affluent community on Florida's east coast. While there were several African-American students who attended Satellite High, the sudden leap from being in the 99% majority to instantly being in the 1% minority provided my crew with quite a culture shock.
This was during the days when General Admission concert seating still was a thing. So, despite this particular show's sell-out status, I relied on the savvy skills I'd honed recently at the Cheap Trick concert to make my way down to the front row. At one point, I was encouraged by the "Beat It"-era Michael Jackson look-alike who was seated next to me to shotgun a joint, but I did it all wrong and wound up blowing smoke all up in the dude's face. Fortunately, "Michael 2.0" was cool about my naïveté regarding proper dope-smoking decorum, and he shared the rest of his weed with me, generously.
Following a concise and catchy opening set from Carrie Lucas, Lakeside stormed the stage. Promoting their current chart-busting album, Fantastic Voyage, the band members all were adorned in outrageous, colorful costumes, while delivering a blistering, high-energy, pirate-themed production. Boasting near-non-stop Hendrix-style guitar solos, the Lakeside show was (almost) more metal than it was Motown. I'd discovered a dangerous new band in Lakeside, and the subsequent headline set from the Whispers was smooth-groovin', indeed. But my crew had traveled a great distance to see only ONE act tonight — Shalamar. Simply put, the So-Cal combo did not disappoint.
Ooozing supermodel-caliber appeal, soon-to-be solo superstar Jody Watley dazzled and delighted in her white, skintight, floor-length gown, while Howard Hewett's powerhouse live vocals took our favorite Three for Love tracks to a whole new level. And Jeffrey Daniel's moon waklin' and body poppin' dance moves were completely mind-boggling — a full two years before they got grabbed by the "glove."
Our excursion was a magical, once-in-a-lifetime experience. And as we shared several first-ever adult-type conversations along the way, I realized, perhaps for the first time that night, that the four of us no longer were kids. We'd grown up and now were moving on with our lives. Even after all these years, I NEVER will forget our fantastic voyage.
Three for Love was an infectious and funky, sunny-sounding record, back when R&B artists had permission to make fun records. It since has sold more than a million copies. It also dropped during the pre-Auto-Tune days when musicians sang (with their real voices) and played actual instruments. And be sure, Hewett, Watley, and Daniel were NOT pop puppets, as their songwriting credits appeared prominently throughout the album liner notes.
More than 40 years later, Three for Love tastes as fresh as the day producer Leon Sylvers picked it from the tree in his backyard. And I was completely amped when I located a well-cared-for used LP copy recently down at my local flea market, for just a buck.
In sum, Three for Love is still full of fire, and you can take that to the bank. And it remains THE crown jewel of my classic R&B vinyl collection.
(5/5) ⭐⭐⭐⭐⭐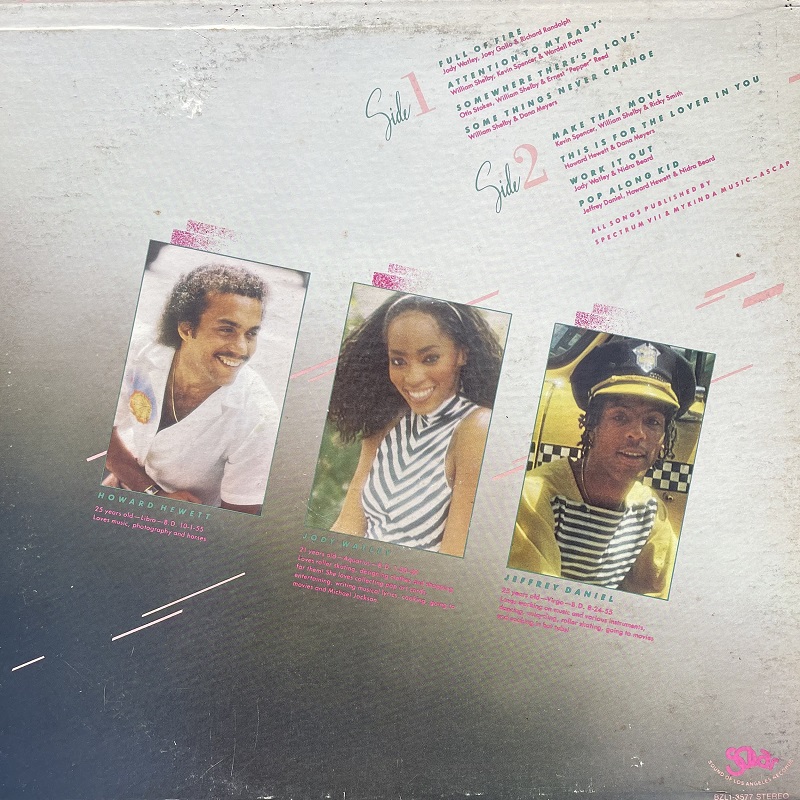 Three for Love Track List
SIDE ONE
Full of Fire (Watley, Gallo, Randolph) – 6:20
Attention to My Baby (Shelby, Spencer, Potts) – 4:32
Somewhere There's a Love (Stokes, Shelby, Reed) – 4:23
Some Things Never Change (Shelby, Meyers) – 4:55
SIDE TWO
Make That Move (Spencer, Shelby, Smith) – 6:15
This Is for the Lover in You (Hewett, Meyers) – 5:04
Work it Out (Watley, Beard) – 4:24
Pop Along Kid (Daniel, Hewett, Beard) – 4:48
---