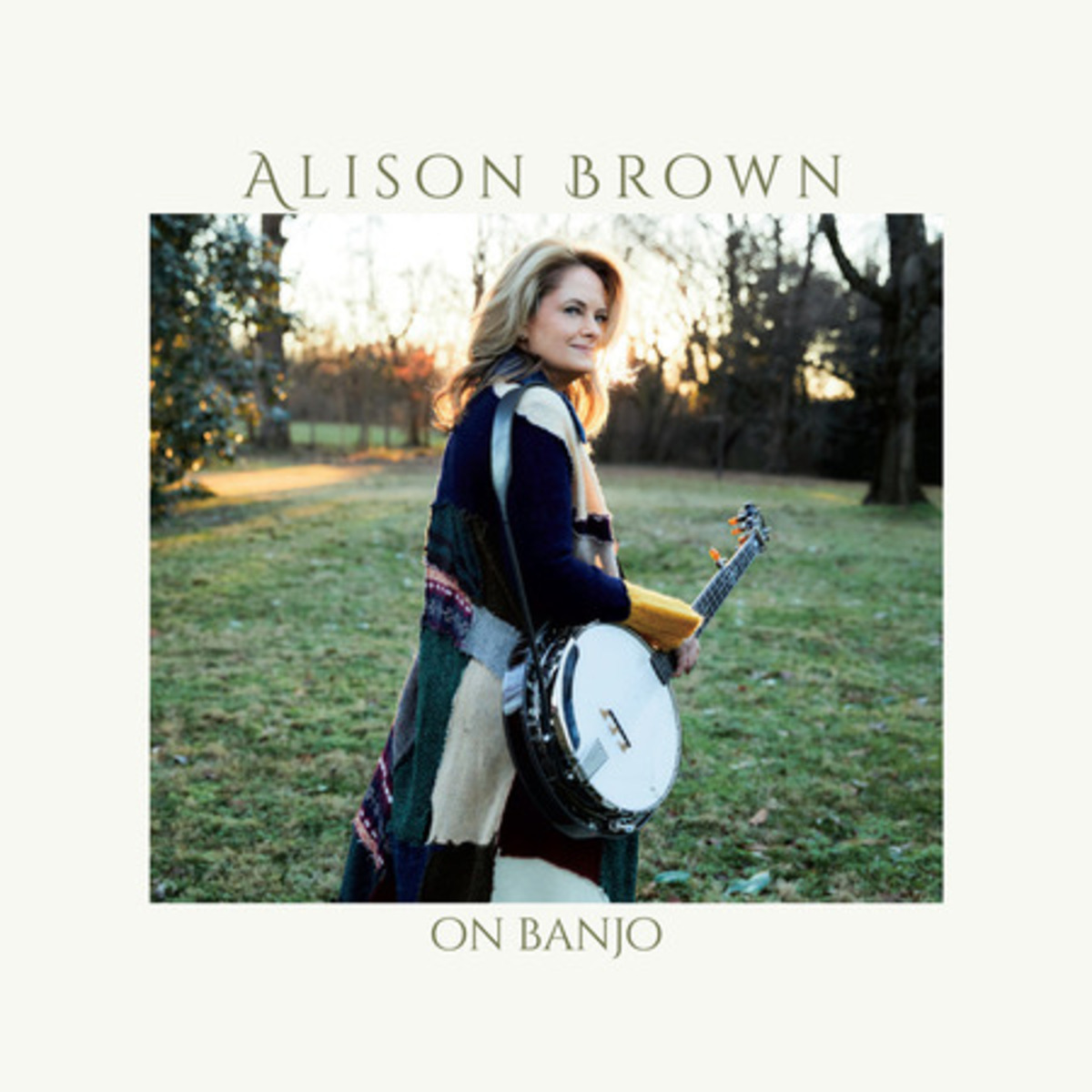 Alison Brown
On Banjo
Compass
I locked eyes with Alison Brown last September at the top of the stairs, her legs tucked under her on a sofa, with the afternoon sun pouring in the window at her back. She was on the phone, away from the steady flow of industry folks touring Compass Records' newly remodeled digs on Music Row. As we were treated to sets by Compass artists and a hopeful or two, I had a feeling Alison was busy working on something of her own.
My feeling was right. On Banjo dropped in early May, and I've been digging in with much anticipation. I'm not disappointed, but I don't know if this is what I expected.
When the lead single, "Sun and Water" was delivered, I immediately recognized this melding of The Beatles' "Here Comes the Sun" and Jobim's "Aguas de Marco." The piece was inspired by the stories of NYC hospitals that played the Beatles classic as Covid patients were discharged. Brown is a master of this storied instrument, but my familiarity comes from a more predictable bluegrass sound than what is happening here. I'm well aware that the banjo is deeply rooted in African culture, and we as North Americans cannot begin to claim it. It belongs in every genre. It has a complex voice and is a booger to learn. It has a volume that dominates, so much so that mandolins and guitars are sometimes marketed with the tongue-in-cheek bragging rights, "banjo killer."
No one is going to kill Alison's banjo. Especially not the "Julia Belle," a low-tuned Deering aptly named in tribute to John Harford.
On Banjo brought in the all-stars to explore territories far beyond bluegrass. Produced by Brown and her husband, Compass Records' co-founder Garry West, the collaborations on this record are a who's who. Steve Martin, Sierra Hull, clarinetist Anat Cohen, classical guitarist Sharon Isbin and fiddler Stuart Duncan leave no stone unturned. Kronos Quintet brings their signature outside-the-lines chamber sound to the final track "Porches." This one reminds me of a vintage film, something in black and white. It begs to be a soundtrack to a silent movie or a scratchy reprint of an old favorite.
As I worked my way through the tracklist the first time, I struggled to warm up to the arrangements. I wanted some "punch" and wasn't hearing it. Once I let go of this inherent bias, I was able to relax into most of the tracks, including "Choro 'Nuff," featuring Cohen on this nod to the Brazilian style, and "Foggy Morning Breaking," where Steve Martin brings his lighthearted but accomplished rhythmic five-string voice to the piece. We are also treated to Sierra Hull, Chris Eldridge, and Stuart Duncan to round out what is one of my favorites on the album. Stuart Duncan delivers more than hot shot fiddle in "Tall Hog at the Trough." Listen closely for the sign-off barnyard impression in this gracious thank-you to the late Byron Berline and John Hickman.
Brown's affinity for Jobim shows up again on the beautiful "BanJobim," a song that was written on guitar but features Alison on banjola: a wooden banjo with a sound hole. The tones are incredible. This one buttered me up to the point of circling back into other tracks with a better mindset. As an admirer of Jobim, I find Brown's take on the voicing to be refreshing and relatable.
Give this album a listen with all the expectations of musicality, but perhaps outside the fence of where banjos typically get placed. Alison Brown is at the top of her game with On Banjo.
---