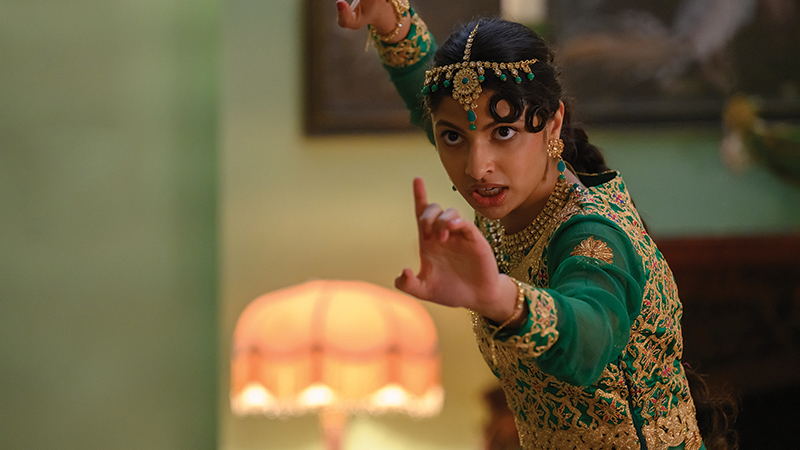 Polite Society
directed by Nida Manzoor
starring Priya Kansara and Renu Brindle
Assimilation works. Check out these stunt women in training. Ria Khan (Priya Kansara) and Lina (Ritu Arya) attend a posh British school where Ria dreams of being a professional stunt woman. There the cool girls laugh at Ria for her dreams, and suggest a more "traditional" career choice, like popping out kids. Meanwhile, Ria's older sister is dating seriously, and soon is engaged to the wealthy, good-looking, and ethnically-correct Salim (Akshay Khanna ).
All is well, until Ria does some snooping and discovers that Salim is only interested in her sister for the strength and tone of her uterus. She's an attractive woman, certainly, but marrying her for her specific girly parts alone is a bit weird. The wedding proceeds apace, and like all good Indian weddings, this coupling flies over the top with lavish costumes, fancy food, Kung Fu fighting, gun play, and a ridiculous premise. I loved it, but one of my fellow journalists expressed more than a little doubt. Then, he's never been to one of these mega shindigs.
While this project has a broad swath of Bollywood tropes, it also has excellent martial arts and street fighting, and the dialog is quite non-posh Brit. Ria does some amazing stunts, and her older sisters are properly skeptical of her plans. Salim is suave and buff and works out seriously. He's evil, but not creepy evil, more like hyper-workout evil. Their mother (Shobu Kapoor ) is the big villain here — she delivers an under-restrained yet slightly plausible motivation for the bootleg genetics flying out the windows. Evil is evil, good is good, and no south Asian villain can overcome a true heart and a great stunt coordinator.
I found the Bollywood tropes entertaining, and they were mainly played for laughs on this screen. The need to assimilate, get a good job, and marry correctly for connection if not love all resonate. Ria's dreams of stunting are plausible; she's a first or second generation Westerner, and feels she really can do anything if she tries. The reluctance of her elders and schoolmates is stranger than any actual bodily performance.
I say take a chance on this one. It's a big screen adventure with over-the-top fights, over-the-top evil, and over-the-top motivation. The action is tense and the suspense well constructed, and people cheered at the end of the show. Here's a flick where anybody, at any time, can get their butt kicked all the way from London to South Asia.
---