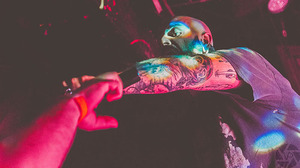 Counterparts and friends rocked the Soundbar in Orlando!
British synth-pop pioneer Gary Numan hit the U.S. concert circuit this fall, much to the delight of hundreds of his most ardent Orlando followers, Chris Long among them.
Mike Keneally, with Henry Kaiser's Palace of Love and Telepathy at Great American Music Hall in San Francisco, CA on October 17, 2002. Concert review by Sir Millard Mulch.