a long passage
by Bing Futch
Those of you who actually follow this column may've noticed the extremely huge gap in between the last story and this one–of course, anyone with a pair of eyes can take a gander at the dates of publication and surmise that I've been a little busy. Since July of this year, I've been on the road, soaking in some of the grandeur of this country. It's a good feeling, breaking away from the mundane everyday of Orlando life and charging down thousands of miles of two-lane blacktop in search of the next big Thing. In this case, the journey was our annual promotional trek, the Coast-2-Coast Coaster Tour, which was cancelled last year due to all kinds of unbelievable bullshit. The next big Thing turned out to be an epiphany in the middle of the desert, but more on that after the gory details.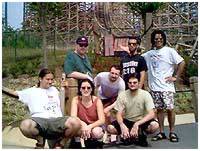 The rite-of-passage began on July 19th as I hopped a plane for Birmingham, Alabama. Later that week, I'd hook up with the Gainesville band POPCANON for some recreational rollercoastering at Visionland theme park. That same evening would find us playing a quadruple bill in Montevallo with LIKE A CREAM DREAM and THOSE DAMN NO-GOODNIKS. This was my first out-of-town show and it went sweetly–the establishment owner even extended an open invitation to come back and perform whenever I liked and the crowd pressed in after the show to ask where they could find my music.
After luxuriating in 'Bama for awhile, the first part of the serious road-trip began. With good friend Ken Pilcher behind the wheel, we set out for Pigeon Forge, Tennessee in search of Dollywood theme park, home to Dolly Parton and a couple of really neat coasters. We arrived in Gatlinburg Wednesday night, July 28th and I was acutely aware that my dreadlocks, nose ring and general blackness was quite the rarity in this small Smoky Mountain town. It certainly alters your perspective if you've never felt hundreds of pairs of eyes on you, some aimed with a suspicious squint–some matched with a cautious smile. With black and white thoughts of civil rights brouhaha in my head, we marched through the hot Wednesday to follow and cut out when approaching thunderstorms began closing the rides. We were bound for Georgia.
National Public Radio was our constant friend on the road, especially the show "All Things Considered." Sometime after we had sated our hunger at the local Ruby Tuesday's ("whaddya mean you don't serve alcohol?"), we began picking up news reports of a gunman at large in the Buckhead section of Atlanta.
Exactly where we were headed. Neat.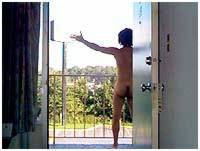 We rolled into town early Thursday night to find nothing but taillights from the re-directed traffic, they had closed off important roads downtown while police conducted a search of the two high-rise buildings where the killings had occurred. Our Econo-Lodge was not far away from the shooting spree location and it was only at the last moment that it was discovered: the gunman was dead by his own hand. We tuned into local talk radio and followed the reactions as callers vented their frustrations with this crazy world. One man had even been driving alongside the suspect in the green van, listening to radio reports and wondering if this was indeed the guy. He spotted police tailing the van and decided that it must be so. In our motel room later on, CNN offered up the pictures that we had so recently imagined.
After an early wake-up call and a nude stretch on the motel balcony, we headed off to Six Flags Over Georgia and had a heat-filled, fun day of excellent coasters before repairing away to an alcohol-serving Ruby Tuesday's and preparing for the two-hour trip back to Alabama. The second leg of the tour was complete. The most intense was yet to come.
A quick flight back to Orlando was necessary, more clothes were packed, small business taken care of, goodbyes said, checks cashed, off we went on August 14th. There would be no musical performances on the final two legs of the tour, just theme parks and a lot of straight-through driving. Sixteen hours from O-Town to Houston, Texas–with the driving duties traded off between myself and friend Katie Hartmann. For our musical entertainment, a whole bag filled with cassette tapes–the news was far too depressing these days. For our nourishment, a cooler filled with sandwich fixin's, Gatorade and snacks promised to keep our budget to a minimum. This was roughing it to the nth degree and I began to wonder, as we bulleted through the night, how we would fare once the desert had its way with us. The deserts of the southwest were just past the Lone Star State.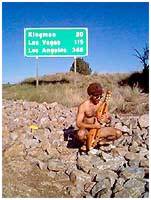 Six Flags Astroworld was a fun re-visit, and we actually got to sleep in a room for free, thanks to my co-traveler's affiliation with a chain of luxury hotels. We were determined to enjoy it since our next pillow and bed combination wouldn't be available to us until 26 hours of driving was endured. Charlie Parker, Sting, Harry Belefonte, Gershwin–they were our roadmates as we traveled north through Texas to highway 40 and then headed west through New Mexico and Arizona. By this time, the beautiful sights outside the window, blazing starlight by evening, red rocks by morning, had begun to inspire rhythms and melodies in my head. As we approached Kingman, Arizona–I got inspired and ripped off my clothes, grabbed my dulcimer and let the sun have its way with me. A few truckers zoomed by. Perhaps they felt hallucinogenic.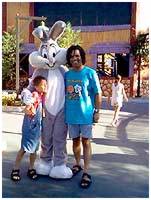 August 17th, we arrived with the morning into Las Vegas and were much relieved to see the golden tracks of Desperado as we sped down highway 15 towards Buffalo Bill's Resort and Casino where two nights of free accommodations awaited us. Sick of turkey sandwiches and sports drinks, we indulged a little while running around Sin City for a couple of days–taking in cheap buffets and purchasing an inexpensive 18-pack of beer. Everywhere we went, there was a sight or an experience that begged to be worked out into music. Unfamiliarity breeds inspiration, I think–a rolling scroll of landscape, the spark of difference–it was all churning and burning in my brain. But the real impetus would come from zipping into my hometown of Los Angeles, California on August 19th and hitting the Antelope Valley Freeway en route to Six Flags Magic Mountain. A freeway that was driven many times before as I went to work at the venerable desert theme park. There, I met up with my eight-year old son Vincent and his lesbian mother, Debby. She had just informed me of her sexual switch and it wasn't shocking, but certainly added some more story logs to the fire–an interesting slant to our two-day visit which included a stop-over at another of my old work haunts, Knott's Berry Farm.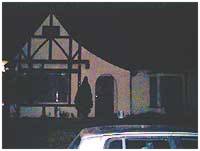 We departed L.A. in the early morning on August 21st and stopped by Santa Monica beach to grab a cup filled with sand for my friend and roommate Tina DeMasi. This is where Interstate 10 begins, bleeding out of Pacific Coast Highway 1 and passing closely by the house where I was conceived and where I spent most of my formative years. No-one I knew lived there anymore, my mother had passed away six years ago and renters were settled in. Seeing it sitting there in the darkness brought back a flood of memories as I grabbed a handful of grass and dirt from the front lawn and stuck it in the sand-filled cup. A little bit of the earth that grounded me way back when. It would ground me now as we began a hellish trip in earnest. Nothing but 10 until we hit Florida again.
Having burned through every single cassette tape in our collection on the trip out, radio once again became our friend as we headed back for Texas. It was a good thing that we got an early start on Saturday because we blew a tire in Phoenix around noonish. A guy named Brooklyn came to our aid and helped us change the blow-out in order to get to a tire service center where the mechanic offered to work on the problem for free. Instead of freaking out, a calm settled over me as I pulled out the dulcimer and sat in the hot sun on that Arizona sidewalk and began writing a song about our near-miss with Death.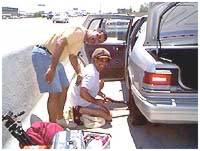 The morning of August 22nd found us in San Antonio, Texas with hurricane Brett approaching from the south. Here again, current events were part of our agenda as we rushed through Sea World and got the hell out of there as the dark clouds approached. It would be another 24 hours of driving before we got back home and there was no more lunch meat, no more bread, nothing but water in the cooler. As an added insult, an ATM in Houston cheated us out of the remaining funds that were needed to put gas in the tank to get us into Orlando. Katie flipped out and began screaming at the clerks that the ATM had stiffed us as I calmly walked out to the car and pulled out that dulcimer. We had done our last park and there was nothing but miles left to go before this trip was over. I was sick of Interstate 10, and bled that out into another new song while arrangements were made to get some cash wired to us.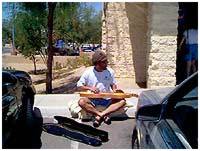 While in Louisiana on a gas stop, the front page of a local newspaper told the story of a nine-car pile up caused by a teenager on a shooting spree. What was going on in all the little burgs across the country? Through snippets of news via radio, print and overheard conversations in truck stops, I surmised that there was a disturbing movement floating across the nation. This balanced out the raw beauty and power of the land that promised the original settlers something special if they could only survive the transit. We arrived home at noon on August 23rd and collapsed. I then discovered that the Ghostrider rollercoaster we had ridden at Knott's Berry Farm had let loose a board and injured five people, just three days after we had ridden it. This came with a flood of news about amusement park accidents and deaths that would have certainly put us on edge had we known earlier.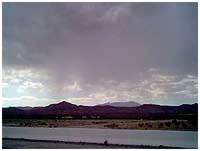 The trip had sent ideas moshing in my head and I put a call into a couple of people with the intention of telling some tales. What my eyes had seen over the past month or so on the road had been part glorious and part repugnant–but all real and filled with stories. The cities were where most of the ugly had taken place–the desert had been the most peaceful and inspiring. So a band was formed out of that–MOHAVE–and we played the House Of Blues seven days later.
All this to say what?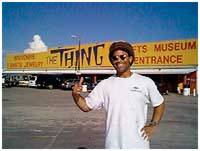 This recent rite-of-passage and subsequent forming of a band was so liquid, so reactionary, so current-events laden that I felt compelled to share a little of what inspired the group. McGyver plays drums, Mike Burney (also of STROBE 7) plays bass and I take the dulcimer and give it a distorted edge to create a sound that is part blues, part bluegrass, a little Native American influence and even some Mexican elements. It's music that tells stories, borne of reality, steeped in a region outside of Kingman, Arizona that just happened to be in Mohave County. Almost unchanged since across the desert came the wagon trains and they brought their stories as well. The soil of America is filled with passion–the roots of cactus plants flourish in a region that sees water rarely. Somewhere approaching Phoenix, I spotted one crimson bloom on a thorny sentinel and wondered why none of the other plants were doing the same. It was taken as divine confirmation, that there is beauty and mystery and wonder in the desert–cities of steel and concrete be damned.
Only then, as the thoughts slid through my brain, did I realize how much I was desperately seeking culture.
---