Access 2 Amsterdam, Day 1
by Bob Pomeroy
A2A NOTEBOOK: The Sensual World
From October 17 through the 21st, the City of Amsterdam was swarming with musicians and music industry types from around the world. The event was a new music industry conference called Access 2 Amsterdam. A2A is patterned after other successful conferences like South by Southwest in Austin, Texas and North by Northeast in Toronto, Canada. This is the first in a series of highly impressionistic reports on the A2A conference. There were over 600 bands playing showcases at 18 venues all over Amsterdam. There were also seminars and panel discussion groups at various hotels, not to mention the cocktail parties and impromptu gatherings. What follows are one reporter's impressions of a small sampling of A2A offerings.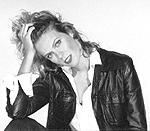 On the first night of the conference, I started at De Brakke Grond, a Belgian cultural center in central Amsterdam. The first performer was Dutch singer Marian Hoiting. Marian has a rich alto voice with a smoky, jazzy delivery. Her songs have a dark, yet seductive feel. At times her songs take on a Brazilian flavor. This was especially true when Hoiting was joined on stage by two guitarists. Listening to her perform, I had an odd thought; if Nick Drake had been reincarnated as a happy, well adjusted women, this is what he might sound like.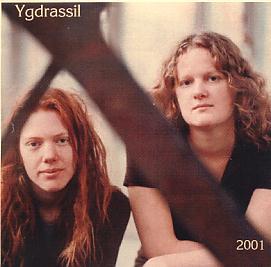 Ygdrassil were up next. The duo of Linde Nijland and Annemarieke Coenders took the stage and stood facing each other. Then they began to sing a Bulgarian folk song without accompaniment. The two women's voices blended in something more that just harmony singing. The intensity of their voices felt like a physical thing linking the two vocalists. It was a spectacular beginning.
After the a cappella opening, Linde and Annemarieke picked up acoustic guitars to accompany themselves. Like Mariana Hoiting, Ygdrassil sing in English. Their songs draw on folk traditions and rock sensibilities. Toward the middle of Ygdrassil's set, the two women set down their guitars and walked out in front of the stage, away from microphones and amplification. They turned to face each other again and began to sing. The room was filled with the sound of two voices, naked and pure. The sound these to women achieved with just their with just their voices was truly magical. I have no idea how this music should be marketed. What they do doesn't easily fit into any easy to classify genre. I do know that hearing (or better yet seeing) Ygdrassil will make your day better.
From De Brakke Grond, I took the tram back to the Leidseplein to catch some acts at the Melkweg. I wanted to check out Danish lounge diva, S. M. Mongstad. I'd checked out her web site before the conference and was intrigued by her neo-lounge act. There was also some controversy about S. M. Mongstad's overt sexuality. Her stage outfit is a slinky red dress that is sheer from the waist up. I'm sorry to disappoint you, but she wears a sexy red bra too. It's a strikingly sensual image.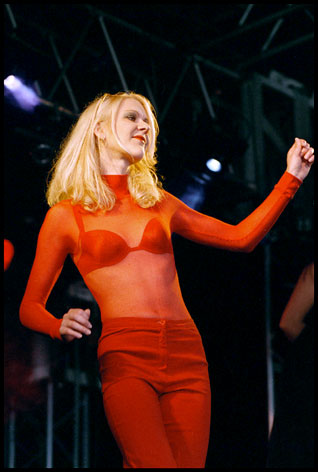 There is a strongly theatrical flair to S. M. Mongstad's performance. Backed by a five piece band, Mongstad sets out to recreate the decadent atmosphere of a 1920's Berlin cabaret crossed with an American cocktail lounge from the 1950's. The music is highly stylized jazz designed for drinking and seduction. Mongstad projects an air of smoldering sensuality with a persona that owes as more to Marlene Dietrich than Madonna. The overt sexuality of songs like "Inside of Me" and "Love is Easy" and her casual delivery that betrays the sophistication of the arrangements.
If you're willing to be drawn into S. M. Mongstad's world, it is incredibly fun place to be. Mongstad clearly enjoys playing the sex goddess on stage. She introduced her band members pointing out that they were both fine musicians and ever so sexy individuals. Her drummer received a mild chiding for not taking his shirt off. S. M. Mongstad has fun playing with our expectations in this way. How often do you see a woman talking about her band as sex objects?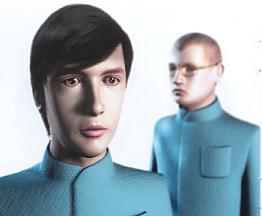 The next band up were the polar opposite of S. M. Mongstad. Where S. M. Mongstad was relaxed and very organic in their approach, Arling and Cameron were programmed and premeditated. Their set began with the organic duo's digital doppelgangers AC/2D revving up the audience from the above stage screen. The ironic humor of a digital projection chiding an audience to scream louder, we can't hear you, set the tone for the set. The early portion of the set featured Gerry Arling and Richard Cameron working their samplers and keyboards as they performed better than average dance music. I don't usually care for music that is too heavily dominated by electronics, but I this was rather fun.
Just as I was beginning to tire of Arling and Cameron's beatbox and samples performance, something happened that took things to an entirely new dimension. A perky pair of young Japanese women bounded on stage and took up a guitar and drum kit on stage. This is where things got really interesting. The combination of live and programmed elements meshed unexpectedly well. It was like Shonen Knife decided to sit in with Kraftwerk. The highlight of this portion of the set was "Weekend" featuring Cameron and the guitar player on co-lead vocals. This tune deserves to be getting ridiculously heavy radio play somewhere.
I ventured out knowing little about the bands and with few expectations. I went back to my hotel amazed by the stylistic diversity and outstanding quality of the performers I had seem. This is the sort of experience I go to events like this hoping for, and this was only the first night of the conference!
---