Manhattan Noir
edited by Lawrence Block
Akashic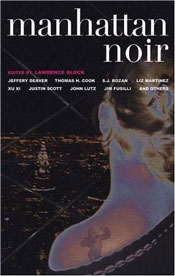 Akashic's nifty-swift Noir franchise, which debuted in 2004 with Brooklyn and has shadowed out to include D.C., Dublin, San Francisco, and Chicago (and soon to be joined by Baltimore, Twin Cities, and London), now boasts a volume based in the very place where Noir began, the core of the Big Bad Apple, Manhattan.
Feel the dread, the angled shadow, the sidelong quicks, the pitter-patter of running blood, the femme fatales' will she/won't she/she did, the creep of the heel, and the stone that causes the hitch and the stumble. Manhattan Noir's got it all and then some.
Charles Ardai's "Good Samaritan" reads like O Henry run amok in McBain's 87th Precinct, while C.J. Sullivan's "The Last Round" does the storied O one bloodier, with an Inwood hero who seeks redemption. From redemption comes revenge, a dish best served cold-blooded, and Lawrence Block butchers up a feast in Hell's Kitchen with "If You Can't Stand the Heat." Jeffrey Deaver, never one to shy away from a fierce feeding, takes his good tableware to your head, thrice, with "A Nice Place to Visit." And what some folks won't do for "The Most Beautiful Apartment in New York" is to Justin Scott one very noosey moral: you get whatcha die for.
Thick with tradition, rich with revelation, and as sweet as Hard Crime itself, Manhattan Noir is just desserts indeed. Dig in.
---