The Notorious Bettie Page
directed by Mary Harron
starring Gretchen Mol, Chris Bauer, and Jared Harris
Picture House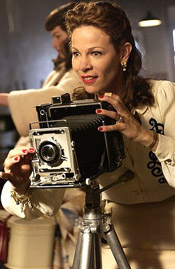 You either know who Bettie Page is, or you don't. If you're in the dark, you might be a bit embarrassed by what she did, which was set the gold standard for fetish modeling in the sexually repressed '50s.
Bettie (Mol) grew up a good church-going girl in Nashville, and after an abusive childhood, modeled in New York. The money was good, the people friendly, and she regarded the lace-up corsets and twelve-inch spikes as funny costumes, not as the burning seeds of men's desires. She ended up working for the sweaty, nervous Irvin Klaw (Bauer) and his lascivious wife, Paula (Lili Taylor). With an archetypical model's career, Bettie worked up from glamour shots to bikini modeling through partial nudity before she found her real calling: bondage. Eventually, the Klaws get hauled up before Estes Kefauver (David Strathairn) as threats to the US moral fiber. When that business collapses, Bettie realizes exactly what her pictures meant, quits the business, and rediscovers God. That's about as happy an ending as one can have in that line of work.
Shot in classic black and white with flashes of garish Kodacolor, there's a wonderful period feel to this well-told biography. Bettie's innocence drives her appeal, and even Irvin Klaw seems mystified by the appeal of the boot and the whip. The best performance comes from Jared Harris as Mr. Willy, the alcoholic procurer for wealthy lawyer Little John (Jefferson Mays). He's friendly and scary, and you know that boots and whips are only an hors d'ouvre for him. Other noteworthy performances comes from Mrs. Klaw and her secret desires, and the pompous Stanislavski-inspired drama coach played by Austin Pendleton.
We've come a long way in 50 years. The stuff Klaw sold can be seen in any Goth club on a Wednesday night, and possession of a photograph of pubic hair is no longer a federal felony. Bettie set a standard, all the while thinking she was doing what God wanted her to do – pose, and make people happy.
The Notorious Bettie Page: http://www.thenotoriousbettiepage.com/
---