Theo & the Skyscrapers
Jeanie & the Tits
Orlando, Fl • June 11, 2006
Jen Cray
It's a cross breed of new wave and metal fronted by a badass former Lunachick… and it only cost $8! Theo & the Skyscrapers were playing- so where the hell was everyone?!!!!

Having, quite literally, the place to ourselves my +1 and I settled in for a couple of hours of waiting. Waiting for people to show up, waiting for music to start, waiting to see if this evening would be a successful night out or end up sucking.
By the time local post riot grrrl act Jeanie & the Tits went on, a small crowd had formed- a lot of whom seemed to be friends/fans of the young quartet. Let me just say that I was a big fan of the 90's riot grrrl scene. Bikini Kill, L7, 7 Year Bitch, Team Dresch, The Gits- that music defined my early high school adolescence. I screamed through my young angst to it, got laid listening to it, broke in my driver's license with it as the soundtrack. I loved it! Unfortunately for me, Jeanie & the Tits sound most like the one band I never got into- Bratmobile.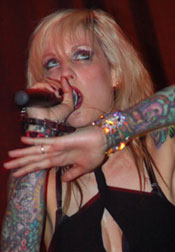 The bandmembers appeared timid onstage, which was a shame because a little self confidence could go a long way for them. Even with ther static performance just about every person in the place rushed over to their merch table after to chat and inquire about their Florida's Dying label release.
As Theo Kogan kept herself hidden pre-show, the boys in the band (which includes former Toilet Boys guitarist Sean Pierce) set up the most elaborate stage I've seen at The Social. Two big lighting constructs, a light box on the floor, and two smoke machines got my hopes way up for an exciting performance and I was not disappointed.
The set was short, but was well worth the waiting around. Theo is a frontwoman who demands attention. She stands atop the light box, extends her long tattooed arms dramatically while she sings, stares into the eyes of the audience- all the while she balances the line between dominatrix and drinking buddy. Her confidence is sexy yet not arrogant.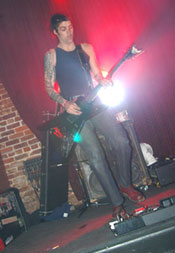 With her cordless mic' she walked throughout the loose crowd (there were maybe 40 people in attendance, at it's most crowded), and even continued speaking into it after exiting the stage. "You want more?" she teased from backstage, to the continued hollers of fans. I've never seen such a small crowd demand an encore! They came back, did a couple more tunes and then stuck around chatting to everyone who wanted to meet the band.
"We've played shows that were packed that weren't as much fun as this crowd," Pierce told me after the show. Still, he too wondered where the rock fans were that Sunday night. "I saw all these guys with tattoos walking past (before the show) and I'm thinking 'where are you going?! Get in here!'"
---