Joan Jett
Eagles of Death Metal, Riverboat Gamblers
Orlando, FL • Nov. 17, 2006
Jen Cray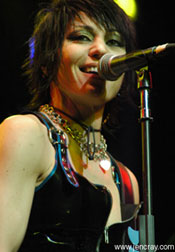 Rock n' Roll owes a huge debt to Joan Jett. She has sung its praises for decades and led one generation after the next to pick up a guitar- or at least to put another dime in the jukebox. Even this far into her career she's still all about the music. Why else would she bring on tour with her two bands known for their show-stealing performances? Eagles of Death Metal and Riverboat Gamblers may not be household names (yet), but the ferocity of their live shows indicates the same kind of longevity Jett has enjoyed.
A preshow interview with Riverboat Gamblers let me in on some inside info: half of 'em had colds and they all were exhausted from two consecutive overnight drives between gigs. "Last night's show was in Alabama. That's, like, 800 miles!" frontman Mike Weibe revealed to me while nursing a sore throat with some hot tea. Guitarist Freddy Castro spent the hour between soundcheck and set time curled up in a ball on a comfy chair in their dressing room, so sick he could hardly speak. Why do I tell you this? Because if you had seen the no holds barred performance the Texas punks gave you never would have known they felt so shitty! That is the extent of the importance this band puts on their 30 minutes onstage.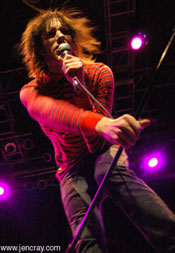 Using the House of Blues stage as a springboard, Weibe catapulted his body into the air countless times. He spun his microphone, walked along the crowd barricade and generally blew the roof off of the place. The band charged through another show-stealing set that included "On Again Off Again," and "True Crime." Ever grateful to be on a tour with a pair of fantastic bands, Weibe tried on an evangelical voice and announced to the crowd, "I've got some good news for you… Eagles of Death Metal, or EDOM as I like to call them, are up next. And, wait, there's more good news, boys and girls. After that, we've got Joan Jett!"
Jesse "The Devil" Hughes heads up the Eagles of Death Metal , a band transported from the 70's era of cock rock and Peter Frampton. He's got a large, red handlebar mustache, aviator glasses ("They're Rayban prescription," he tell me later on), a high singing voice, and hips that don't stop shaking. The band has garnered a lot of attention for Queens of the Stone Age's Josh Homme's involvement (he's the drummer), though he's not touring with the band at the moment. Even with the glaring absence of Homme, EODM brought out the testosterone-infused rocker in the mostly female crowd. Anyone who can sing a song with the chorus "Cherry Cola" and make it memorable is alright in my book!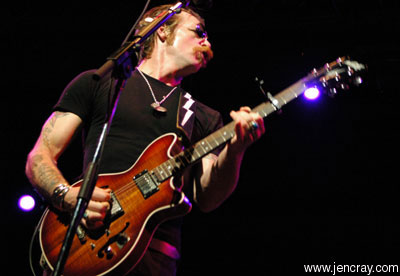 When Joan Jett steps out onto any stage, she brings with her the soul and experience of punk's early days. Opening, as she often does, with "Bad Reputation" she reiterates what we have all learned- she's here to rock out her way and she doesn't give a shit if anyone thinks she ought to be doing things differently. She's got her band of Blackhearts backing her, but everyone knows it's Joan's stage and she owns it. Through the classics that she has to play for fear of a riot, she throws in several songs off her first release of new material in a decade, Sinner. "AC DC," "Androgynous" and "Riddles"- these tunes hold up alongside the ones we all know the words to and will fall right into place in her ready-made setlist for years to come.
Jett teases the audience who hang on her every word, the crowd screams for more, the beer flows and the music makes all the problems of the day slip out of mind. Put simply, a Joan Jett show is a party.
To see more photos of this, and other shows, go to [www.jencray.com](http://www.jencray.com/bands_live.htm).
---