Fat City Reprise
Leroy Justice, Second Coming, Tim Blaine
New York, New York • December 9, 2006
Brittany Sturges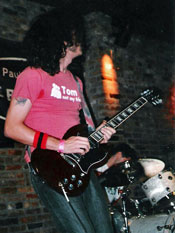 It was bitter cold, as my friend Josh and I walked to the 3rd and Oregon. We had been invited up to catch a performance from local band Fat City Reprise. I was anticipating seeing their show, considering they had managed to get a whole busload of fans to travel to NYC on what was probably one of the coldest nights thus far.
Once in NY, the fans flocked into the bar. I'd never heard of the Bitter End; it's an extremely "cozy" venue (aka extremely small) and it seemed the place was bursting at the seams once the FCR fans walked in.
Tim Blaine was playing the end of his set once we walked in the doors. After hearing one song (the name escapes me), Blaine and his band walked off. The song wasn't memorable, but then again, it was the last one.
Next up was a band called Second Coming. Fronted by a female lead singer who was about 20, I found myself leaning on a wall in the back. The beats were mediocre; the only thing that stood out about the band was the female singer's vocals. She had a voice that reminded me of a country-Christina Aguilera type. After an hour, I began shifting my feet, hoping that the set would end.
Fat City Reprise were scheduled to play at 11 pm, but were pushed back. Leroy Justice took the stage instead, and what a pleasant suprise they were. As they set up their equipment, my eye was drawn to the bottle of alcohol that was set on top of the keyboards. Their music was a southern rock style– not my usual type, but let me say that I found myself enjoying it. The highlight of their set was their rendition of "Purple Rain." I didn't think anyone could do that song justice other than Prince, but I must say that the band did an excellent job.
Next up at midnight was Fat City Reprise. I was anticipating seeing if and how their set had changed since I saw them back in September. Their fans flocked to the seats in front of the stage, as the band set up. Opening with "Dance Like," the band had the crowd on their feet dancing. It was nice to see that since I witnessed them last, their stage performance seems to have grown even more confident. Lead singer Frank Pedano banged on the keys, spilling his heart to the audience. Playing crowd favorites like the upbeat "Take Me Dancing," "People Like You" and "Waste," which may be one of my favorite numbers. They broke out their hit,"Cowgirl," which has received great response from people and been played on the radio. However, having heard it live before, I was a bit disappointed with the performance of the song. Could it have been that the guys were tired? Possibly, but whatever it was… the song didn't have its usual flair. However, their fans, donning their Fat City Reprise t-shirts and cowboy hats, danced and sang along. People were dancing in the tiny aisles; some stood on chairs in the back. As the boys finished their set and their fans flocked outside, the Bitter End emptied, leaving a few people scattered throughout the place. However, the streets of NYC were still bustling, even at 2:30 a.m.
The bus pulled in to Philly at approximately 5 a.m. I found myself waiting in the bitter cold and eerily quiet. As I caught a cab home from South Philly, I drifed off, with "Take Me Dancing" stuck in my head.
What can I say? It's catchy as all hell.
---