Of Montreal
Loney, Dear, and Pigeon John
Orlando, Fl • March 31, 2007
Jen Cray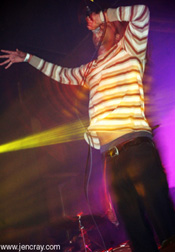 Challenging The Scissor Sisters and Erasure for the title of Gayest Show Ever is Of Montreal. Their current traveling circus involves costume changes, a man in a white body suit and mask who crawled across the stage at random, a large lobster appendage, a dragon, and the over the top flamboyance of mastermind Kevin Barnes. iF the music wasn't so damn good it'd be laughable, but as it stands the colorful glam of the Athens, GA band serves to enhance the exotic stories and characters created on Hissing Fauna, Are You The Destroyer?! and subsequent works of Barnes' imagination.
The quality of entertainment put forth by Of Montreal was nearly canceled out by the unwise choice for warmup acts. Pigeon John knew that he didn't fit on the bill, and he said as much to the crowd. The rapper, who got a couple of brownie points for at least having a real live drummer onstage and not just a dj, threw out old school hip hop that remarkably won over much of the teenage audience. All I heard was hip hop cliches from the early 90's ("Can I get a 'ho-oh?!"), but he had the room jumping and waving their hands in the air (like they just didn't care, yo!) like they were at a Kanye West concert. I thought that I had signed up for a night of quirky indie pop with a disco flair, I must have stumbled into the wrong club.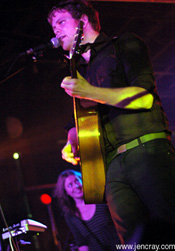 Loney, Dear were better musically, but incredibly dull to watch. Vocalist/guitarist Emil Svanängen has got a bold BeeGees falsetto, but not much personality going on onstage. He sings soul by way of folk rock and tosses in a little electronic effects to keep us on our toes. With the exception of a couple songs at the end of the Alaska band's set that held my gaze, the most amusing thing about their performance was the resemblance between the keyboardist and Elizabeth Shue's character in The Karate Kid.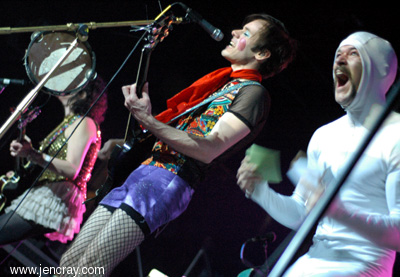 The emergence of the guests of honor was a welcomed blur of indulgence. While not appearing naked this time around (if you haven't heard by now, Kevin Barnes played the Vegas show of the tour in the buff a few weeks ago), the attention grabbing frontman splashed on some colorful makeup and donned some crazy getups for the Orlando folk. To fully imagine the presence of Mr. Barnes you need only imagine A.F.I. frontman Davey Havok- skinnier and way more gay (although actually not gay). And then take the rest of the band into account: all dressed in strange space age, disco dancing, acid tripping members of some whacked out cult of the bizarre. A dragon made an appearance, as did a man dressed in a white body suit with a mesh mask who slithered around the band and leaned into the crowd. It was all oddly sexual in an undefinable fetish sort of way.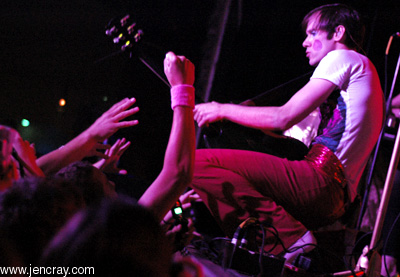 And then there was the music! The band brought epic songs like "Heimdalsgate Like A Promethean Curse" and "Gronlandic Edit" to 3 dimensional life while the nearly soldout audience went absolutely wild for it. It was nearly a broadway performance, complete with Barnes dashing sidestage to change outfits during instrumental breaks. A perfect climax to what began as a slow start of an evening. Of Montreal are an event, and that's an understatement!
To see more photos of this show, and more, go to [www.jencray.com](http://www.jencray.com/bands_live.htm).
---