Sebadoh
The Bent Moustache
Orlando, Fl • April 10, 2007
Jen Cray
As if it wasn't enough that Lou Barlow made amends with J Mascis and has been touring with Dinosaur Jr. this past year, the multi tasking musician has outdone himself and given the fans what they've been begging for. For the first time in 14 years the original lineup of indie rock's underrated heroes, Sebadoh, have once again found themselves on the highways of America. Joined by Eric Gaffney and Jason Lowenstein (the lineup that gave us the best Sebadoh albums: III, Bubble & Scrape) Barlow strolled into a soldout room in Orlando and reminded us all of their greatness.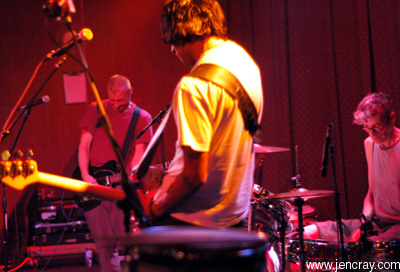 The Bent Moustache, an indie inspired garage band from The Netherlands, served as a proper warmup for the night. The trio were obviously influenced not only by the headliners, but by that whole early indie era (Sonic Youth, The Fall). While the crowd of barflies may not have moved down close to the stage (except for a young group of enthusiastic teens who danced spastically in unabashed euphoria), it was not in dismissal but rather the preservation of energy. The aging crowd may have grown up thrashing about to every act on the bill, but whom now like to sip a cold beverage and save it all up for the band they paid to see.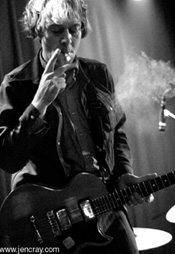 When Sebadoh find their way onto the stage it is with the same casual air that they have always carried themselves. They have done more for the genre of lo-fi indie rock than the bands that get most of the credit (Pavement, Guided By Voices, to name two), and have done so by allowing each of its members to contribute equally to the songwriting. What this means is that one song may be a straight-up shoegazing unrequited love song with Lou taking the vocals, the next tune will have Jason swapping drums for bass and screaming his bloody head off, and then Eric will take a turn on guitar and toss out a melodic punk song. They are several bands rolled into one and this is what makes them so great.
I had seen the 1997 incarnation of the band (with Bob Fay in place of Gaffney)- which was fantastic- but did not compare to seeing this renunited core lineup. As they plowed through song after song (many clock in well under 2 minutes, so you can imagine how many tunes they are able to cram into an evening's set!), they swapped instruments and chatted with each other and the crowd. The always shy Barlow was especially chatty and festive this evening, asking an audience member to bring him up a double shot of whiskey.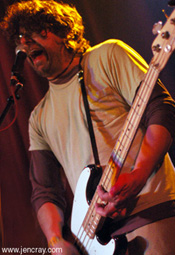 Classic III era songs like "Scars, Four Eyes," "Violet Execution," and "Truly Great Thing" were mixed into a set that touched upon the early years on up to the perfect pop of "Rebound" (the band's catchiest, most radio friendly song by far) off of 1994's Bakesale. While the energetic songs were jacked up with the energy of in-person performance, the mellower tunes- of which include some of their best work- were a bit muddled. Blame it on the balance of sound, or the fact that the band were feeling a little too energetic to slow things down to the proper pace that these songs called for, I can't say and I'm not dwelling on it. I got too see Lou, Eric, and Jason tearing it up on my hometown stage and I got too chat with them before the show. I have absolutely nothing to complain about!
To see more photos of this show, and others, go to [www.jencray.com](http://www.jencray.com/bands_live.htm)
http:// ◼
---