Tv On The Radio
The Noisettes
Orlando, Fl • April 9, 2007
Jen Cray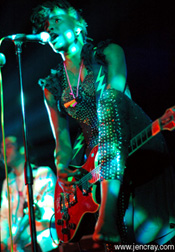 Too often the latest indie rock buzz band are big fat disappointments. Going by word of mouth, and a thick stack of magazine cover stories all screaming about the brilliance of the band, I found myself fighting through a soldout crowd at Orlando's Club@Firestone to pass judgment on Tv On The Radio. With a blank slate of opinion, I slammed down a Stella and grounded myself right down front. I expected some interesting music, maybe a few catchy tunes, but the onslaught of utter inspiration that came forth- not just from the headliners but from openers The Noisettes- made this Monday night of music one to be remembered.
If Grace Jones played the role of Billie Holiday she might look a little something like The Noisettes' frontwoman Shingai Shoniwa. And if Bjork did the vocals for the Yeah Yeah Yeahs, it might sound a little something like The Noisettes. A three piece from London, the band acheived total stage domination within seconds of their performance. Equal parts garage rock, soul, banshee howls, noise rock and a quirky fashion sense, the trio- in simple terms- blew my mind. Next time they play Orlando they are pretty much a guranteed sell-out.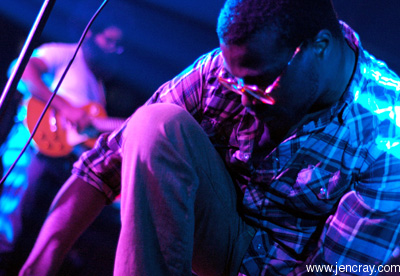 Tv On The Radio seek not only to play their music, or to entertain a crowd, but to create a mood. Hidden in the shadows of blue light, they opened their set with an atmospheric four minutes of high register vocals and drumming on actual logs. Sounds pretty hippie, but it was so not.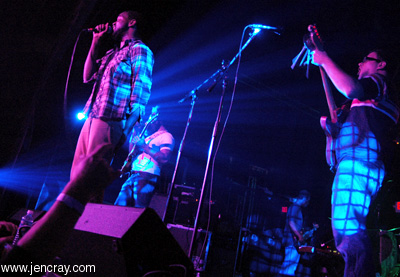 Vocalist Tunde Adebimpe shot around the stage with a flamboyance reserved for those artists able to lose themselves completely inside the music they create, while the band of multi-instrumentalists behind him added color to the ambience of the nameless sounds they make. Like a car taking its time revving up, the NY conglomeration eased us all into a futuristic postpunk dance party. Pop friendly tunes like "Wolf Like Me" were sprinkled into an impressive evening of art rock worthy of all the hype and so much more.
Download them all you want, but digital files don't do this band justice, they are a band to be seen.
To see more photos of this show, and others, go to [www.jencray.com](http://www.jencray.com/bands_live.htm)
---