Against Me!/ Mastodon
Cursive, These Arms Are Snakes
Orlando, Fl • May 25, 2007
Jen Cray
When the worlds of metal, punk, indie and rock collide, a boldly-billed package tour is born. Cursive and These Arms Are Snakes joined co-headliners Mastodon and Against Me! on one of the most diversified travelling circuses you're bound to see this year. With each band able to draw in a sizable audience, packing the place wasn't an issue. Keeping the metal fans happy during the post-hardcore set, and the punk kids awake during the indie rock set was.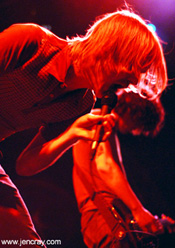 Playing to a light crowd early on was Seattle's These Arms Are Snakes, who at best sounded like a Rage Against The Machine rip-off, and at worst could be lumped in with the post-hardcore/screamo faction. Were it not for the flighty dancing of frontman Steve Snere, which oddly enough resembled the stage sway of Chris Robinson of The Black Crowes, I may have written these guys off straight away and headed out onto the balcony to wait out the set with the punks and metalheads, yet something about Snere's flamboyance and the contradictory aggressive rock the band was playing made me pay attention. By no means did this band seal the deal with me, or with the majority of the audience, but they warmed me up enough to stir my curiousity.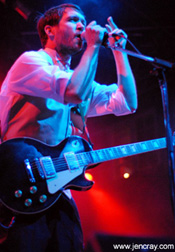 Cursive played a set similar to the one I saw them play a few months ago when they sold-out the nearby Club@Firestone, only this time it was not to a crowd of fully convinced fans. Dead in the middle of the audience, behind the hardcore Mastodon and Against Me! fans who lined up early enough to secure a choice spot down front, was where the Cursive junkies reigned. They sang along to every song, screaming out requests and cheering Tim Kasher's every note- even when the music sort of dropped out unexpectedly (I still don't know if it was part of the song, or a sound mistake) leaving the crowd chatter to dominate over the music. Cursive is an odd band, who at moments have the popcentricities of Weezer- with all the accompanying hooks and catchy melodies- but at other times get lost in their own musicianship, creating compositions that sound as if each individual part were written separately and then thrown together. Audience members who weren't already fans, for the most part, looked confused during the Omaha band's set- and I can't really blame them.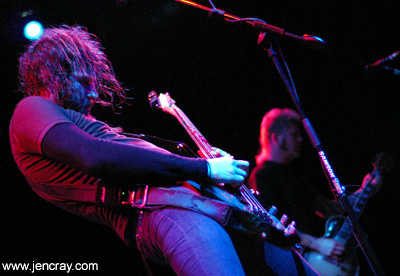 Making a surprise early appearance, Mastodon stormed onto the stage- when we all were expecting Against Me! to go on next- causing a mad rush of black-shirted longhairs from the back bars to the pits. I had never experienced the Atlanta band's intellectual progressive metal on record or in concert, and within about 10 seconds I can say I was transformed into a full-fledged fan. To explain the mastery with which this band performs is to use just two simple words: Holy Shit.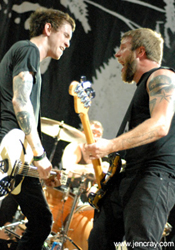 Taking their lead from the old masters like Iron Maiden, Sepultura and Metallica, the band melds the ancient metal formula of big guitars, powerhouse vocals and even bigger drums with progressive, hardcore and jazz-infused elements in a way that only a band like Tool has previously been able to pull off. It's easy to see why the buzz on this band has been ever increasing, and the mere fact that they have been ballsy enough to bring along such an eclectic group of bands on tour with them and risk pissing off their more singleminded fans was reason enough to give them a fair listen. The fact that their 50-minute set never once had my mind wandering, and had the audience stirred up into an ever escalating pit, was reason to absolutely love them.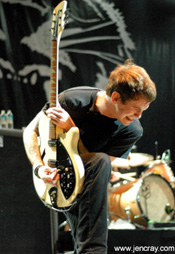 Against Me! may be based three hours north of us (Gainesville to be exact), but they have always had a major following in Central Florida throughout their career, both before and after the record label to sign or not to sign adventures. Because of this, their shows here are always explosive- as if they've got an audience full of friends and family to impress (which they probably do). The band played harder, and Tom Gabel's vocals sounded stronger than I've ever heard before- and the crowd responded.
You can criticize the band all you want for signing to a major label after making such a big deal about how they never would, you could call their lyrics trite, and their music run of the mill pop-punk, but you'd be completely missing the point of the kind of band Against Me! has always been. A band that does things on their own terms, speaks from the heart and isn't afraid to change their mind, or take a chance with their music. More directly, a band with the desire and the ability to win fans every single time that they play.
To see more photos of this show, and others, go to [www.jencray.com](http://www.jencray.com/bands_live.htm).
---