Theo & the Skyscrapers
Vocalist Theo Kogan
Jen Cray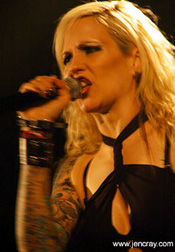 Theo Kogan is not a woman who can stand still. She fronted the Lunachicks throughout the '90s (riot grrrl rock with a heavier emphasis on the rock) and after a brief silence within the world of music, she's clawed her way back into the underground with some boys in tow this time around- including Sean Pierce of The Toilet Boys. Her current project, Theo & the Skycrapers, are about to release their second full length this summer with a tour to follow, but still Ms. Theo found time to answer a few burning questions about the record industry, sex in music, and her ambitious plans for the future.
Compared to the debut Theo & The Skyscrapers album, this one has an almost '80s goth new wave vibe to it. Whereas the first album had a metal/punk foundation, this one has got a lot of electronic and dance elements. What brought this about?
We are using electronic bass now, instead of a human, so the sound became sort of "simplified" in its own complicated way. Plus, we can't help but continue to morph and find our voice…
You vocals remind me a bit of Siouxsie Sioux mixed with Debbie Harry. Is that a fair comparison?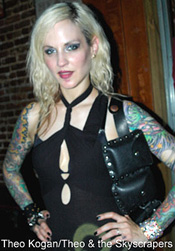 It's a really flattering one! It isn't intentional at all, but I love both of those voices and both of those women!!
How has the steady decline of the record industry (in terms of labels, radio, sales figures, etc..) effected your approach to being in a band? In other words, how has the climate changed since your days with the Lunachicks?
A lot and then not at all in some ways. I think it's interesting how the computer age/Internet has gotten ahead of the labels and they can't keep up so they are freaking out. I have always had the DIY approach. With the Lunachicks we had small labels and/or a manager at points supposedly 'taking care' of us somewhat– and then learned the hard way that you can't turn a blind eye to anyone or anything in this business. I have never had the luxury or stupidity to let someone else or a label take full control and don't believe I ever would. Something drives me to do this still. I love performing and growing as an "artist' I can't seem to stop.
Many of your peers from the '90s are regrouping and putting out new albums, touring. Is it a mistake for an artist to look back and try to recapture past movements, or is it possible to move forward by pulling from the past?
Musicians need to make money and they should do it! There are tons of kids who will eat it up! People should do whatever they want and cash the hell in. They are not going to do it selling records anymore. Personally, bands I have seen and even ones I haven't – except Kiss who I saw and went crazy for when they came back in full makeup – I am not really one to run to see reunion stuff unless it's on a whim or something that I MUST see. For instance I didn't so see the Sex Pistols reunion, but I think for the bands to make money and hopefully have a good time while they do it, more power to them. Cash in!!
There are a lot of references to death on this album. Is this literal, or symbolic, or purely accidental?
All of the above.
You wrote a love song for New York. You must have traveled all over the world throughout your career. What is it about NYC that pulls you back?
That song is actually pre-Skyscrapers from like 2002 or 2003 and we've been waiting to put it one something. I am a native New Yorker and I have been a lot of places, but it is my home and I love it. Sometimes just walking around with the asphalt towers, the noise, all the characters that live there and the super fast constant movement is very romantic to me. It's a love song to my city…surely not the first.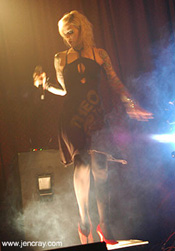 Songs like "Tease" (my favorite on the album, by the way!) have got a strong sexual quality due in large part to your vocal delivery. Is this something your conscious of when putting the song together? Of the importance of sexuality in rock 'n' roll?
It sort of was for that one yes lyrically and yeah……heh heh glad you like it! Do you know what it's about?
"Those Days" is a nostalgic song about what?
Being a 'kid', hanging with your friends, and not giving a fuck, when friendship and self-serving fun was all that mattered. Life gets so very complicated.
Can you tell me about Screen Test, the project you've done with Rob Roth?
Oh! There's A LOT to say about that. We basically wrote three albums in the past year. that show was one. we have to put it out with the dvd. Rob Roth is a brilliant artist and i am thrilled to collaborate with him. It is a full 'theater' and a rock show and dance, at once and an installation and a video and a movie. and performance art.
You can go to myspace.com/thescreentest to see some of it an hear the songs. We'll be doing it again in 2008 and really hope to tour with it! That show and Rob Roth led to my and Sean's collaborating with Bigartgroup, who we are in Italy with, writing original songs for a show called, "The People in Polverigi."
You can check that out here: myspace.com/bigartgroup
You seem to keep yourself very busy, not just with music but with various causes- I noticed that you did an AIDS walk, and a benefit for incarcerated women, this aside from your acting and modeling work…
Yes! I HATE being idle. It rots my brain and I get bummed out.
In my experience artists seem to fall into two categories: complete slackers, or overachievers who are afraid to stand still. You seem to fall in the latter category which leads me to assume that you have a lot of personal and professional goals for the future. What have you yet to DO that you would like to?
Firstly— I AM STARTING A MAKEUP LINE!!!! It is called Armour Cosmetics with a partner Allison Burns, who has a handbag line. We will have product out in September and we are approving colors right now!! We are starting with lip gloss and the colors are AMAZING. We are making 14 colors and one of them is black! I'll make sure you get all the info when our website is launched and more plans are confirmed. We plan to have launch party in conjunction with a benefit show for a home for teen age girls. Also— I want to write songs for a "musical" and film that's a musical, but not in the classic sense. I want to continue to collaborate with artists and directors, perform in things that are interesting and scare me. I want write a book – and put out a book of photography. I want to paint more and also go to Greece, Egypt, Thailand and Bali. All of this is just off the top of my head! I also really like to sleep!
Thanks so much, again, for your time, and good luck with the new album and with everything else you do!
Thank you so much Jen for your continued interest and support! hope to see you in FL!
---