Prime Suspect 7: The Final Act
directed by Philip Martin
starring Helen Mirren, Frank Finlay, Tom Bell
BBC / Acorn Media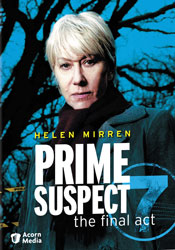 On its surface, Prime Suspect 7 is another British police drama/mystery about finding the murderer of a pregnant 14-year-old girl. It plays that part well, with all of the requisite clues, misdirection, tense action scenes, and satisfying conclusions you would expect. Taken as an independent teleplay, you will, most likely, leave satisfied, or maybe even impressed.
But where Prime Suspect 7 really shines is in its continuity. This is the final chapter in the lives of all of these characters, especially Detective Superintendent Jane Tennison, and viewing this case through that lens lifts this far above your average crime drama. Even if you have not been watching the Prime Suspect series prior to The Final Act, you will get a feel for how much of a milestone this is – the first female homicide Detective Inspector in New Scotland Yard history is nearing retirement, she is battling alcoholism, and her father is battling cancer. Deeply emotional stuff to carry you through the mystery.
Fans who have been with Tennison since 1991, however, are treated to an even greater level of emotional pathos. These viewers have seen this progression, from take-charge woman-in-a-man's-world into an almost broken, lonely yet successful police superintendent (much like the classic stereotype of the rugged male cop who shuns/loses all of his relationships to the job). The audience agonizes as she faces her demons, both inner and in the real world, but hope springs eternal. The filmmakers give us rewarding glimpses into the show's history. The return of a character from the early days comes off as organic and not in any way a stunt for the final episode. Likewise, a flashback scene from the end of the first story evokes a smile when viewed in context.
The excellent DVD presentation is backed up by a 50-minute behind-the-scenes documentary, which does a fine job of recapping the show and its history. Also included are filmographies and a photo gallery.
Unlike your average American drama, everything is not wrapped up nice and tidy in a bow at the end of The Final Act. But there is hope, and that, paired with an effective mystery, results in a satisfying bookend for this character's journey. Prime Suspect 7: The Final Act is a must see for Prime Suspect fans, and highly recommended for fans of well-made crime dramas.
Acorn: http://www.acornonline.com
---