Satellite Party
Mink
House of Blues, Orlando, Fl • Sept. 13, 2007
Jen Cray
There's no question that Perry Farrell is an innovator- nay, a cultural beacon whose otherworldly intuitions have touched music not just on an auditory level, but in the form of one of the greatest concept festivals ever formed (Lollapalooza, of course).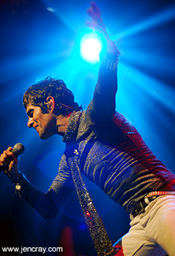 In the early 90's his band, Jane's Addiction, helped define the "alternative" bands who would soon infiltrate mainstream culture in the coming years. And once the alternative explosion saturated tv and radio, he jumped into a new project called Porno For Pyros, whose music was less aggressive than Jane's, but equally as weird. These days, the festival he founded has gone off the road and found roots as an annual three day gala in Chicago's Grant Park, and the man himself is back out hitting the pavement with his latest contribution to the world of music in the form of Satellite Party.
The landing of Satellite Party at Orlando's House of Blues was met with less fanfare than I would have expected. Even with the top floor of the venue closed off due to low ticket sales, the room still looked sparse as openers Mink took the stage. Where the hell are all the Perry fans?, I thought. Less than five years ago when he reunited Jane's Addiction, the band's draw was large enough to sell out the larger Hard Rock Live. Does throwing Dave Navarro into the mix really make that much of a difference? And, here's a thought… when did Perry Farrell's fans become corporate pencil pushers and weekend drunks?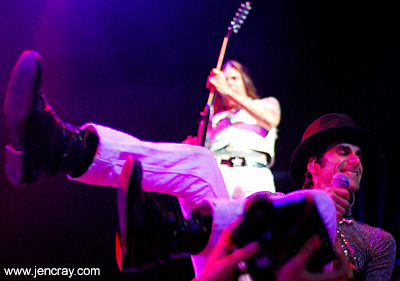 Before I go into further detail about that– MINK. Remember Rockstar: INXS? Early on there was a very charismatic, Mick Jagger-esque contestant by the name of Neal Carlson who got booted after only a couple performances. After his brief stint in the world of reality tv, Carlson headed back to Brooklyn and threw his energies into his own band, MINK. The band's Rolling Stones foundation, dirtied in NYC garage rock goodness, may seem an odd match for the spacey world of Satellite Party, but the audience did not see such a clashing of genres. They ate it up- gobbling down Carlson's sex strut and drummer Stella Mozgawa's pounding arm action. I only caught the last half of their winning set, and so I've got no photos to share (unfortunately), but a band this good will be back around on their own very soon, I'm sure.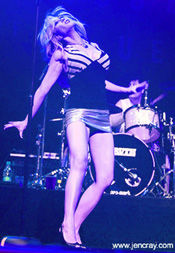 With no barricade to separate the audience from the stage, and with no security present to separate rude drunks from happy party-goers, the formerly sparse audience tightened in around me. By the time the band made its grand appearance, Perry glittered up in a tight silver sparkly shirt and matching scarf, I was packed in amongst balding polo shirt-wearing management types and their stumbling drunk wives/girlfriends. Why were they there, let alone fighting to reach out and touch the lanky, yet Iggy Pop strong, frontman?!
Where were the thirtysomethings with their faded flannel shirts and cynical attitudes who should have been trying to maintain their cool while being fit to burst as Farrell led his new band through old material?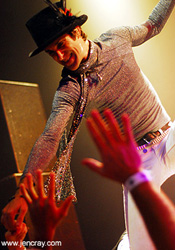 Old material, I say. That's right- Satellite Party songs only made up maybe half of the night's setlist. The rest was a trip down memory lane with audience-pleasing Jane's Addiction and Porno For Pyros songs aiding as the soundtrack to Farrell's unending energy and joyous plunges into the loving arms of the reaching crowd. After kicking off the night with album opening "Wish Upon a Dog Star," it was a block of Jane's and Porno that followed (including "Tahitian Moon" and "Mountain Song"). The majority of the set were these throwback songs. I'm not complaining- I was just as ecstatic as the rest of Orlando to hear these old songs from my younger days- BUT why start a new band if you're going to play mostly songs from your old ones?
Satellite Party's debut disc is strong enough to hold up on its own, with maybe a small handful of old stand-bys tossed in to keep the people happy. When it all comes down to it, though, 95% of the concert goers were there to experience Perry in all his glory (or his exotic bandmate/wife whose sensual dancing held more than one gaze captivated) and they did not appeared disappointed in the least.
To see more photos of this show, and others, go to [www.jencray.com](http://www.jencray.com/bands_live.htm).
---