Homeland Insecurity
directed by Bill Brown
Microcosm Publishing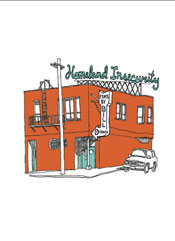 The inherent charm of Bill Brown's work is its home movie feel, as the majority of his work has been filmed on grainy Super 8 stock, giving each of his films the appearance of having been shot some 40 years ago rather than just one year prior to this DVD's release.
His work is devious in that way, using the seemingly amateur qualities to draw viewers into Brown's far reaching personal explorations of the vast expanses of America as well as the far corners of his own inner world.
Both of the longer films collected here have the same searching quality as On The Road, with Brown himself playing the perpetual dreamer, Sal Paradise. The Other Side follows Brown on a road trip through Texas, specifically along the border to Mexico. As he relates the tenuous relationship that the U.S. has always had with its Southern neighbor, Brown slyly brings in footage of protests and demonstrations that he attended, making a salient point about how we are no longer at war over how much land Mexico claims for their own, but how so many immigrants from that country want to make this land their own, looking for steady jobs and security that they are lacking back home. It also becomes clear through Brown's voiceover how unsure he is about what his place is in the history of the U.S., especially during a time as unhinged as our modern age seems to be. He doesn't come to any sort of conclusion, but I imagine that is the point of the film.
As a filmmaker, several of the shots feel more like photojournalism than cinematography. He is able to capture the wonder at the full arc of a rainbow over a desert highway and the beautiful desolation of a small church in the middle of nowhere and in doing so, takes on the deliberately paced quality of fiction filmmakers like Eric Rohmer and Werner Herzog.
Microcosm: http://www.microcosmpublishing.com
---