Maroon 5/ The Hives
Amway Arena, Orlando, Fl • oct. 23, 2007
Jen Cray
Last year I saw Bloc Party open up for Panic! At the Disco. This year's Jekyll & Hyde pairing for a tour has got to be The Hives opening for Maroon 5. I can't stress strongly enough how bizarre the musical marriage these two make: it's smart Swedish garage punk with political undertones, and frat boy-approved Top 40 r&b posing as rock music. These two go together like peanut butter and hot sauce.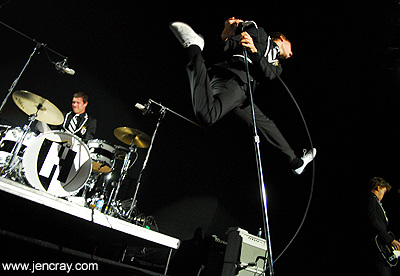 It probably does not even need to be said, but- I was there for The Hives. On their 2004 tour they played to a sold-out crowd at Orlando's House of Blues and it remains one of the best concerts I've ever been to. For their opening stint they wore black suits instead of white and were limited to an insulting 25 minutes of stage time, but their performance was equally as mindblowing. Perhaps even more so because they had to try so hard to get the Maroon 5 fans' attention.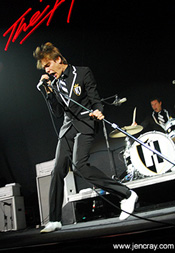 "Most of you don't know who we are, but in about 10 minutes you'll all be big fans of The Hives," declared frontman Pelle Almqvist.
For the next eight songs or so, the animated vocalist balanced his time between the stage and in the arms of the sprinkling of enthusiastic fans who came to the show having already discovered the wonderment of these black and white imports. While Almqvist wooed the arena with his ringleader personality and bright blue eyes, the rest of his merry band cranked the levels up way past anything the headliners could possibly compete with.
They blew through "Walk Idiot Walk," "Hate to Say I Told You So," as well as a few soon-to-be hits from their upcoming album The Black and White Album– one of which ("You Dress Up for Armageddon") sounded eerily like "London Calling." Ending their fan-turning stage minutes with their new single, "Tick Tick Boom," proved a fittingly explosive closing to a stage-stealing set.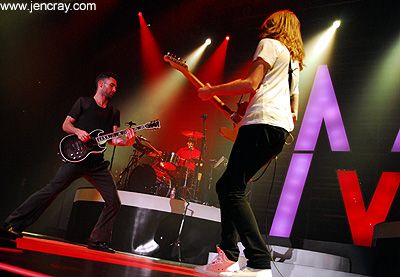 I'll be honest- I didn't even know what Maroon 5 sounded like before they hit the stage, or so I thought. As it turns out, the first song they played ("This Love" ?) I recognized. How? Grocery stores, in-store radio at work, who knows how these bits of popular music find their ways into our subconscious. The same way I knew the words to a song by a band whose members I couldn't pick out of a crowd, I also know details about Britney Spears' child custody troubles and the names of actors in High School Musical. It's all just trivial pop culture tidbits that I'd rather not know.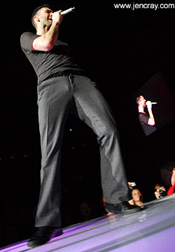 So what did I learn about Maroon 5? The majority of their audience really do not like Hillary Clinton (this I know from the ear-piercing booing that came as a reaction to a "Hillary for President" text that ran across the stage's pre show screen); singer Adam Levine sings in a falsetto that could easily be mistaken for Justin Timberlake; and though a few of the bandmembers look like rejects from Spinal Tap, the music they play is closer to Jamiroqaui than any cock rock bands of the 70's.
Between his frequent poses and catwalk struts, Adam Levine seemed more of a model than a musician, and the Orlando fans didn't seem to mind. To those who had their eyes open, The Hives clearly owned the bill. Maroon 5 are either really brave, or really stupid, to be touring with such a phenomenal opening act.
To see more photos of this show, and others, go to [www.jencray.com](http://www.jencray.com/bands_live.htm)
---