Juliette & the Licks
Scissors For Lefty, Suffrajett
The Social, Orlando, Fl • Halloween, 2007
Jen Cray
Juliette Lewis may forever be associated with her serial killing, media-manipulating character in Natural Born Killers, but on Halloween night in Orlando she would be known simply as the host of the city's coolest party. There was no shortage of fright night events in my little tourist town, but choosing to spend the evening at The Social with Juliette & the Licks (thereby turning my back on the Kings of Leon/Black Rebel Motorcycle Club show at the Hard Rock Live) was the best decision I could have made.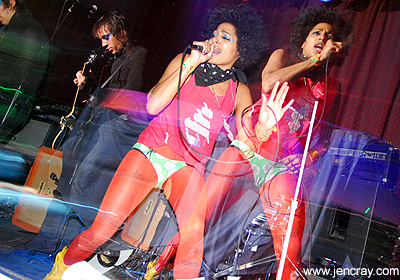 In front of a surprisingly large number of dressed-up fans, Chicago's Suffrajett kicked off the festivities with a potent set of postpunk fun! Frontwoman Simi Sernaker, dressed in a bright pink leotard (for Halloween, or everyday?), looked a bit like Rosario Dawson, and performed with Karen O vigor. When shredding the bow on her electric violin, she just plain looked badass!
When I last checked in with Scissors For Lefty, they were opening for Erasure. The always entertaining, always out-there bunch of boys from San Fran were well prepared for Halloween night. Stepping out (without lead guitarist Robby who had flown home to take his kids trick-or-treating) dressed as painters, charismatic and flirty frontman Brian Garza asked, "Do you mind if we cool down a bit?" What followed was a strip down that brought the boys to their boxers and revealed their gold painted bodies.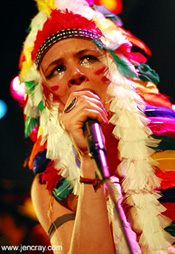 The performance that followed was even more entertaining than their "outfits." Garza hopped down into the audience to sing to every girl he came across (including my girlfriend- whose birthday it became at the stroke of midnight!), tossed candy from a plastic pumpkin and still managed to nail the guitar parts he was not used to playing ("I'm really not used to playing so much guitar. I miss Robby," he told me after the show). This band is a great party band!
And then there was Juliette. Strutting out in a full indian headress and colorful (but skimpy) leotard, Lewis led her band of boys through a 90-minute powerhouse explosion. She's every bit as bendy, outlandish, and attention grabbing as you would expect her to be- and she can sing! Like Scissors For Lefty, she too spent much of the set within the crowd. It may be unprofessional of me to say it, but she used me as her leverage for hopping on and off the stage… While I'm revealing my inner fan, she also held the microphone to me and my girlfriend to sing along with her to the band's discotastic cover of "Hot Stuff!"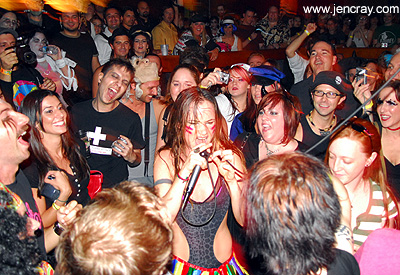 She holds an audience in the palm of her hand, but that's not to say that her band is not every bit as energetic behind her. Bassist Jason Womack and guitarist Todd Morse playfully compete with Lewis for the eyes of the audience, esspecially when they slip off their shirts and start pouring water on themselves. It is their love of the spotlight, and their loving relationship with Lewis (who seems to adore all four of her bandmates) that elevates the already great music into the realm of incredible live show!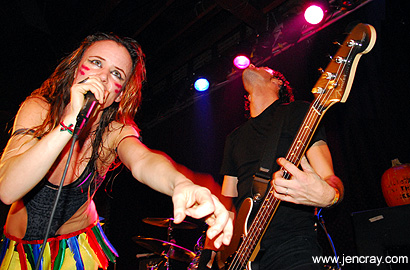 My sole complaint is that they didn't play "Hot Kiss," which has got to be one of my most played songs of this past year! They did, however, play "Sticky Honey," "Smash and Grab," and "Purgatory Blues."
…and then she grabbed my hand when taking her bow. It was Halloween and I, apparently, went out as an unabashedly geeky fan, and I don't care! I had a blast!
To see more photos of this show, and others, go to [www.jencray.com](http://www.jencray.com/bands_live.htm)
---