Between the Buried & Me
August Burns Red, Behold…the Arctopus
The Social, Orlando, FL • Dec. 2, 2007
Jen Cray
"Anyone have extra tickets?" was the question that began to bombard me when I was still 2 blocks away from The Social.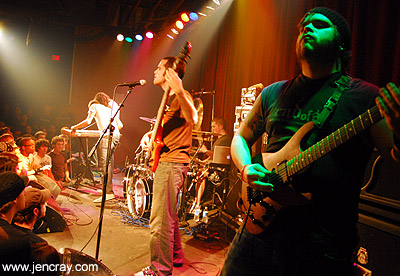 "Sold-Out! No we don't have extra tickets to sell!" screamed the chalkboard marquee outside the venue. No one expected this North Carolina progressive metalcore band to fill the venue to capacity, least of all the many angry fans milling around out front begging those in line for spares. What all of this chaos said to me was – this is gonna be one big sweaty headache, and I'll be lucky if I make it out of here without a bloody nose and with my camera in one piece.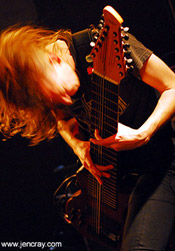 Fortunately for me, my worries were for nothing. I couldn't have hoped for a nicer audience, or a sweeter bunch of bands. When the fans are watching my back as I hide my face behind the camera, the bands onstage are posing for me, and the bands offstage are giving my girlfriend & I free beer – it's a good night!
Brooklyn's Behold…the Arctopus opened up the early evening with a bastardized new breed of metal that sounded like Dream Theater covering Death, or maybe the other way around. The trio are sans vocals, and all are undisputed masters of their instruments to the point that their skills become a blur. The most interesting element of this spastic blowout is the fat necked monstrosity that Colin Marston plays. "It's called a Warr guitar," he tells me after, and it's a 12 string guitar/bass combo that is played with a tapping and slapping method that Marston has spent 11 years perfecting. Their music is too complex to do much but stare in wonderment.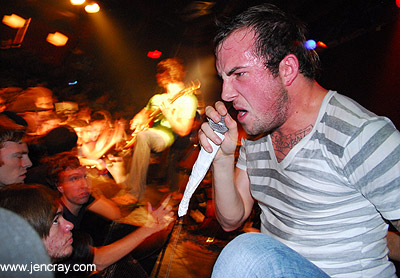 August Burns Red brought out an onslaught of the same old metalcore mush that has been oversaturating the market for the last year or more… but, once again, the kids were eating it up. I don't listen to this music, I don't understand why so many people go nuts over it, BUT I will bow to the stage prowess of ABR frontman Jake Luhrs. The dude never takes a breath and is positively drenched in sweat when leaving the stage (I know, I had to wipe my hand on my jeans after tapping him on the shoulder)! The band has a Christian affiliation, and most of the band wears flip-flops onstage, but the effect that they have on the crowd cannot be denied even by someone as critical of the metalcore genre as myself.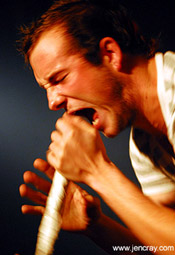 Having previously seen Between the Buried & Me (2 years ago), disregarded them as hacks, ignored their subsequent pair of albums, and only recently been wooed by their latest (and best) release, Colors – I can without a doubt say that I was going to be a hard sell for tonight's performance. What I heard on their album had some serious potential – shadings of Sepultura, of real death metal, not this rehashed hardcore/heavy metal crap – and I was putting myself in the midst of this sweaty, body-to-body madness to be convinced that my reaction to that album was not false.
What I witnessed was neither earth shattering, nor was it disposable. The North Carolina band played through most (if not all) of Colors, but songs that sounded brutal on record sounded a little less so live. Maybe it's just the stark contrast of harsh thrash metal – and all of the mental pictures of long haired, dirty rockers that come with it – and the clean cut, neatly trimmed young boys dishing it out onstage in front of me that watered it down for me. Still, the quality of "(B)The Decade of Statues" still screams out across the room, even if it's level is slightly downgraded from that which rests inside of the solitary confines of my headphones.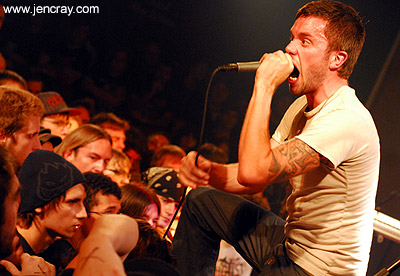 The crowd didn't seem to hear any such deviation, and the pits began to churn within minutes of frontman Tommy Rogers' first deep throated bellow. Due to a second engagement – of a completely opposite sort – that I had in store for me at another venue down the road, I wasn't able to go the distance for the entire set (Dinosaur Jr. beckoned), but from the chunk that I saw I can further attest to the validity of BTBAM as a player in the world of new metal.
To see more photos of this show, and others, go to
www.jencray.com</i>
---