Big D and the Kids Table
Whole Wheat Bread, The A.K.A.s
The Social, Orlando, Fl • November 5, 2007
Jen Cray
My bottle of beer is being served to me in a plastic cup, people are being patted down at the door, and "absolutely no stage diving" signs are tacked up everywhere…Guess it's time for another dirty, rowdy punk show! The latest installment of reports from the pit stars Big D and the Kids Table alongside Whole Wheat Bread and The A.K.A.s. It's the Steady Riot Tour.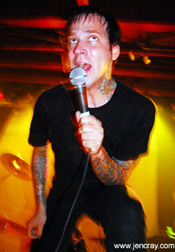 As is often the case, the band that most of the audience didn't really respond to ended up being my favorite of the night. The A.K.A.s are from Philly, they play pop punk that's not overtly poppy, and they've got a keyboard in the mix which immediately gives them a standout sound. Performing with two of the five members sick as dogs (vocalist Mike Ski, and guitarist Chris Bazan), The A.K.A.s dodged hecklers and converted the fans down front whom–by the end of the set–had churned up a fairly angry pit. Not only did these guys put on an impressively dynamic show, but they're just the nicest people you could ever meet (Big D, himself, later gave them big praise during his band's set).
Homegrown Whole Wheat Bread have added a bit of white bread to the mix since I last saw them. That's right, the Jacksonville trio now have a white kid on bass. I don't know if he's an official member or merely filling in, but he actually held his own–even during the rap parts. Speaking of rap parts, the last time I saw these guys I was impressed at how much they sounded exactly the opposite of what you'd expect by looking at them. You'd expect Bad Brains (with whom they've recently played with, by the way), but aside from one song that was heavy on the hip hop, they sounded like straight-up pop punk a la Green Day. It was great, and so against the grain.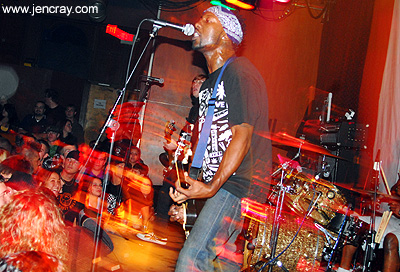 This time around, the bulk of the set was not only heavy on the hip hop (they've also recently played with Lil Jon), but far more hardcore in sound. The pits got vicious during these guys! Orlando is big on supporting their own, and though this band is from a couple hours north, they play our fair town often enough to be honorary members of the local scene.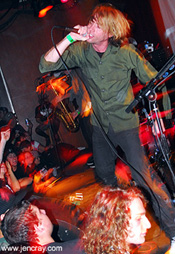 The madness that began with WWB just got more intense for Big D and the Kids Table. This Boston band is in the family of NOFX, Against Me!, and Anti-Flag. In other words, they're a punk band that slips bits of socio-political commentary inside pogo-ready three-minute songs. A seven-piece complete with sax, trumpet, and trombone players, they've been carrying on the third wave ska tradition since 1995. Though the genre seems to have run its course long ago, they still manage to pack venues and ignite the stage. Namesake David McWane casually commands the crowd with an everyman persona, as guitarist Sean Rogan offers the gymnastic side of the show. After a large portion of kids all hold up the air guitar fingers to the first couple of solos Rogan offers, he and McWane pause to question the Orlando folk about this strange hand gesture.
"Seriously, what is that?" McWane asks with a smile, playfully making fun of the crowd.
"You only see that down here," Rogan offers, confirming my own curiosity about this bizarre phenomena.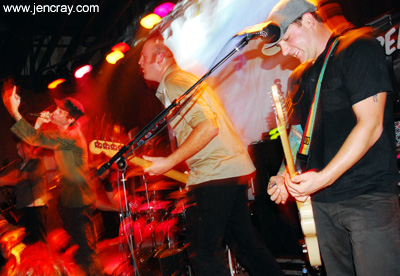 For the next heavy guitar part that followed this exchange, Rogan leaned himself entirely into the extended arms–and fingers–of the laughing crowd. Now that's some good fun! Add a bouncy party tune like "Shining On" to the mood, and we were all pogoing ourselves up a storm.
To see more photos of this show, and others, go to [www.jencray.com](http://www.jencray.com/bands_live.htm)
---