Chuck Ragan
with Sundowner, Gasoline Heart, and special guest Dustin Kensrue
The Social, Orlando, Fl • Nov. 25, 2007
Jen Cray
A fast departure from Brand New's show at the House of Blues brought me to the much more laid-back vibe at The Social for the Chuck Ragan gig.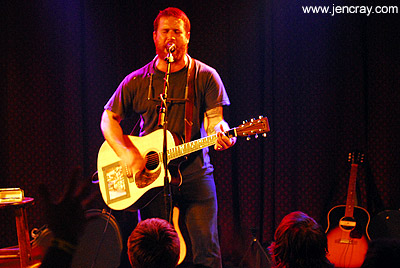 Who's Chuck Ragan? Well, let's get that settled before we move any further forward. Ragan was/is the frontman for Gainesville post hardcore trendsetters Hot Water Music. Putting HWM on the backburner for a bit, Ragan decided to pursue the folkier side of his soul by putting out a solo album of acoustic songs on Side One Dummy Records called Feast or Famine this past year. While he was doing that, the remaining members of HWM became The Draft – a band more closely resembling the hardcore sounds of the original band. While both Ragan and The Draft have been packing in small venues around the country all year, a reunion for Hot Water Music has already been scheduled for January of next year.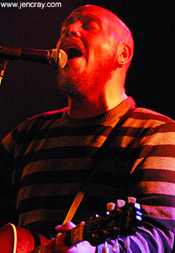 Though the demand for the more aggressive side of Chuck Ragan was still prevalent, tonight's show was all about the stripped down side of rock 'n' roll. Joining the headliner was another pair of moonlighting frontmen who left their bands at home. Actually, that's not entirely accurate. The marquee called for just two openers, but a surprise guest who popped in halfway through Ragan's set turned the evening into a quadruple bill of somewhat famous frontmen going it alone for the night.
I got cozied up inside just as Louis DeFabrizio, singer/guitarist for Orlando's own Gasoline Heart, was proving that his voice, lyrics, and wits go a long way to make up for the lack of drums and bass behind him. The good ol' boy American Rock (think mid 90's alternative rock blended with classic Tom Petty, or Bruce Springsteen) that his dayjob band kicks out is strong enough to bring in the crowds (locally, at least), but I must admit that DeFrabrizio by himself was a whole different beast. He's a funny guy, and it comes through beautifully when he's forced to hold down the fort all by himself. Whether it's tossing in countrified versions of Misfits tunes, or mimicking Pete Townsend's windmill guitar playing – this man kept the early arrivers more than just entertained, he kept us happy!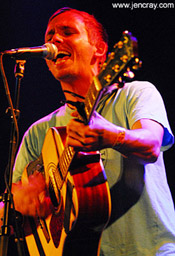 Chicago's Sundowner is usually a band, but for this tour it's Chris McCaughan and his guitar. The Lawrence Arms are the band from which McCaughan is sneaking away from for the time being. When paired up with his dayjob band, he's a Fat Wreck-approved punk rocker, but for now he was the quiet dude onstage who hid behind his guitar and let songs like "This War is Noise" say all that he needed to say.
It seems strange to me that the majority of the audience didn't seem to recognize the man who is Sundowner…or maybe it was too relaxed a show for the fans to reveal their inner fandom. His set went over well enough, but it was clearly a Chuck crowd and when the bearded fellow with the big smile finally stepped out, all concepts of cool reservation went out the window and the beer-induced bellows began!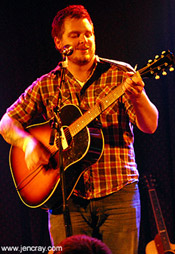 What struck me first about Ragan's voice is how commanding it is even without the benefit of a whole lot of chaos going on behind him. It aches with layers of experience and feeling in a slightly Mike Ness sort of way… Mike Ness – now there's a solo side project that needs to be reignited!
The audience at Ragan's feet was filled with drunken male admirers, most of whom looked like musicians themselves. They sang along to his every word with as much feeling as the man himself delivered.
On a stool next to him were about seven carefully-positioned harmonicas. Who knew that one person needed so many options! Along with the accompaniment of his many harps, Ragan was joined by various backup musicians throughout the set, including a violinist. Halfway through his set, he introduced "my friend, Dustin Kensrue," and left the stage.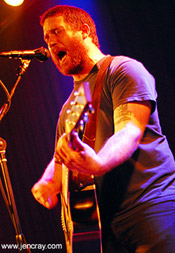 Again, I don't think that many knew who Kensrue was, or that he fronts a band called Thrice. I, however, had just photographed Thrice two hours prior when they opened for Brand New at my first concert of the evening. What an odd twist of fate that Kensrue, like myself, was pulling a double for the night! He played a pair of the best songs off his solo debut Please Come Home, "I knew You Before" and "Blood & Wine," before tossing in a cover of Elvis Costello's "Radio, Radio." I must admit, I was tickled pink to catch this unannounced moment of the solo Kensrue.
The final half of Ragan's set brought the audience closer and closer to their own personal musical bliss. I don't have the album, I don't know one song from the next, but after what I saw onstage this night it will most definitely be the next album I seek out!
To see more photos of this show, and others, go to [www.jencray.com](http://www.jencray.com/bands_live.htm)
Chuck Ragan: http://www.myspace.com/chuckragan ◼
---