Matecumbe: The Lost Florida Novel
by James A. Michener
University Press of Florida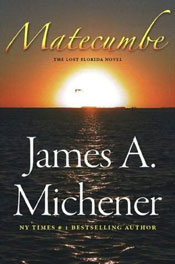 Outed by one-time Michener ghostwriter Joe Avenick thirty years after its creation, Matecumbe works best as wrapping for its horrible story. This dead fish sure stinks once it hits air, and leaves me wondering why the hard-hitting (or at least bestselling) historical novelist didn't follow his publisher's lead and chuck it overboard.
Originally penned as a three-act play, and reading like it, the stilted novella tells the parallel love stories of a divorced mother, her divorced daughter, and the men who suffer the misfortunes of falling into these dull ladies' snares. The setup – waitressy working-class Pottstown, Pennsylvania played against old-Florida and all the characters you'd expect to find there – might work for Michener if he didn't constantly make the unlikeable characters talk. God, shut up already.
Mary Ann's a '60s era mother struggling to keep her girls fed and healthy while also learning how to cross-stitch – a character many can probably relate to, but god, why? The woman snags a man who gifts her with a car, refrigerator, and house in the 'burbs, wow! So, she pathetically has sex with him even though she doesn't really dig it! Thirty years later, daughter Melissa is no big improvement. An uptight librarian (not in a good way) who likes to look at herself in the mirror (literally), she flees the unbearable sadness of her broken marriage with a flighty trip to Matecumbe in the Florida Keys. When Melissa's stranded on the first night of her vacation by a drug dealer's wayward boat, she falls for the salty-dog policeman who rescues her, is completely healed of her sorrow, and the story descends from there.
Get past the trite dual story lines and a dated preoccupation with sexual morality and you're left with unimaginative and completely implausible dialogue interspersed with mildly interesting mini-histories of the Florida Keys, hurricanes, and greyhound racing. No wonder Michener's publisher didn't want to bring this baby to land. Avenick's afterword offers more satisfying fare – perhaps he should have written Matecumbe.
University Press of Florida: http://www.upf.com/book.asp?id=MITCHS08
---