Punk House
by Abby Banks
Harry N. Abrams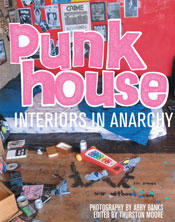 A "punk house" is a home inhabited by a community of like-minded artists whose ideals and opinions lie on the fringe of mainstream society. These houses are usually packed full with more bodies than the structure would intend (thereby keeping living costs low for all), and often serve as a cheap place to crash while other like-minded travelers pass in and through town. When these wanderers happen to be musicians, shows are often promoted and put on–it's all very D.I.Y.
Photographer Abby Banks took a cross country trip to 50 different such houses in 25 different U.S. cities, and this book serves as her scrapbook for the journey.
Inside are photos of graffiti-strewn bathrooms, cluttered living rooms, kitchens too colorful and hectic to actually whip up a meal in, and other odds and ends of these homes that live slightly outside of "normal" society. Banks' mission was to capture this subculture, and she has done so vividly, however I would have liked to have seen some of these houses in full-on concert mode.
I've been to one of the punk houses featured in this coffee table book–The Ark in Gainesville, Florida. The most vivid memory I have of that tiny little house just down the street from UF is the night I saw the Le Tigre/The Butchies show in 2000. Without a stage, the bands set up in the emptied out living room. The room was so packed you couldn't move, you couldn't see, the sound was shit, but MAN! Kathleen Hanna was rockin' out! I met the former Bikini Kill frontwoman that night, gave The Butchies' sexy frontwoman Kaia Wilson a ride in my car, and witnessed an amazing setting for collective artistry in the house that was The Ark. It was one of the most unique, memorable, concerts I have ever attended!
My experience revolved around the music, the artists, the people–this side of the The Ark punk house is strangely absent from Abby Banks' photos.
Still, it's a cool concept, and with a foreword written by, and editorial credit going to, Sonic Youth's Thruston Moore–this already interesting book is given some serious indie cred!
---