Heavy Metal Fun Time Activity Book
by Aye Jay
ECW Press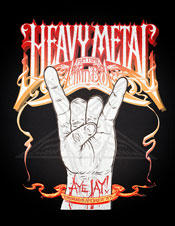 Attention Metalheads!!! Are you mostly deaf from rocking? Are you not sure exactly how to pass on your metaldom to your demon seed? ECW Press has just the thing, without listening to a single note and subsequently making your children deaf. The Heavy Metal Fun Time Activity Book is just the thing to indoctrinate your little ones into headbanging, devil horn-throwing metalheads.
Everything from coloring to mazes to word searches is here. There is even a "Metal Lib" to Dio's "Holy Diver." You not only add verbs and adjectives, but animals, parts of animals, animal organs, and one of the five senses. It's something that neither you nor your kids are soon to forget. There's also a Heavy Metal Sudoku puzzle (Hint: they're all 6's).
There are matching games, like matching the Led Zeppelin name to their particular symbol, or putting the Slipknot mask with their corresponding number. You can color the likes of Glenn Danzig, Black Sabbath, and Metallica (circa 1983 and 1988).
But there are two in this activity book that I personally enjoy the best. The Tool song title word search is priceless (and actually quite difficult). There's nothing like sitting down to quality time with your child(ren) and asking if they have found "Prison Sex" or "Faaip de Oiad" in the word search yet. Ahh…the memories. The other is a maze where you have to get Spinal Tap through the backstage area to their show. That can lead right into showing the movie and introducing your spawn to one of the best mockumentaries in history.
There are dozens of other activities; like seeing how many words you can make out of "White Zombie," hair metal and black metal crosswords, and drawing your face on the mask of Gene Simmons. For the metalheads who are looking to raise the next generation of metalheads, the Heavy Metal Fun Time Activity Book is the perfect way to get started. Of course, even if you are not a parent, or a fan of metal, this is still a fun (if not challenging) little activity book. Try it. You'll see.
---