Tom Petty & the Heartbreakers: Runnin' Down a Dream
by Warren Zanes
Chronicle Books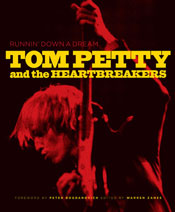 What is it about Tom Petty and the Heartbreakers that makes me eager to bend a rib lifting this 40-pound book onto a flabby belly that's seen as many years as they have? I have to say that long before the abs went south, I had a soft spot for Tom's brand of southern rock – forget Lynrd Skynrd and the Allmans, with their party-tastic beer-swillin' bounce – the Heartbreakers always knew how to play a song like it meant something – like it meant something to them, and they didn't give a shit if we got it or not, but we did anyway.
Like many of my southern brethren, I fell in love with the Heartbreakers around "Stop Draggin' My Heart Around", and they've had me through Anthology: Through the Years, which has played on my iPod since my first Shuffle. Who doesn't agree that Tom Petty is one of very few long-time musicians who (along with Elvis Costello and Sonic Youth) has remained consistently fresh and true to his roots – whether fronting the Heartbreakers, as a solo, or as the kindergarten member of The Traveling Wilburys? Dare to make the same statement about U2 or poor old Eric Clapton, artists with stellar (really) beginnings that have gone all what the fuck? of late. I don't think so. The Heartbreakers moved from Gainesville (I always thought Micanopy was their town) to California in the early '70s, but their music has always been a reflection of them – who cares where they live?
A hefty aggregate of photos – some you've seen before and others probably recovered from the band members' aging under-bed collections – provides the footing for Chronicle Books' Tom Petty and the Heartbreakers: Runnin' Down a Dream. Visually plentiful to put it mildly, this coffee table sized volume packs more than 40 years of images into its 200+ pages, enough to keep this Florida girl busy for two evenings solid. What sweet nostalgia to see that Tom Petty and Stevie Nicks photo from page 124, the one I cut out of the Florida Today before it was the crap newspaper it is now, and I still have in a sticky scrapbook full of Ziggy comics and rainbows. You won't see the band as babies, but there are several swoon-worthy photos of Tom with early bands The Epics and Mudcrutch.
All right, I admit I did a lot of gaping at this book. Give me some credit though, even if the photos are a collective prize, and normally I would just skim the text of a big book like this, I did read every word. Cover to big, fat cover. Warren Zanes made a wise move in letting the Heartbreakers speak for themselves, and the disparity in their stories – Benmont Tench comes off as a musical genius with a bit of a pout and Tom himself, a recalcitrant visionary perfectionist – made me chuckle more than once. Peter Bogdonavich conducted the bulk of the interviews for his titular 2007 film (that was a UCB reference, did you get it?), and Zanes contributed some fill-in interview material, but neither Bogdonavich or Zanes are discernible beyond the introductory headings prefacing the Heartbreakers' histories – a damned admirable strategy for any interviewer. A healthy glob of concert tickets, buttons, and other odd ephemera mix with head shots galore, and a few surprise characters – Jackson Browne, Eddie Vedder, and Petty's daughter, Adria among them – add a few cents to round out the expected cast (I left a couple for you to discover).
I can't say the book didn't leave me wanting a few things – I got a little glimpse of Petty's family from his daughter, but there wasn't one photo of her, and though he mentions his first and current marriages, Tom's pretty tight-lipped there. All told, though, Tom Petty and the Heartbreakers: Runnin' Down a Dream captures the band's essence and the inevitable ups and downs of almost a half-century of rocking it like they mean it.
Chronicle Books: http://www.chroniclebooks.com
---