Iron Maiden: Live After Death
directed by James Yukich
starring Iron Maiden
New Door Records/UMe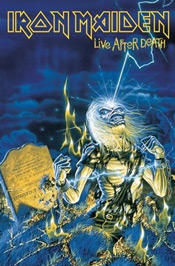 To coincide with their Somewhere Back In Time World Tour, Iron Maiden has released the legendary recording from their 1984 four-night residence at Long Beach Arena in California in the form of the double DVD Live After Death. The performance was, like the band itself, larger than life and almost solely responsible for redefining heavy metal in the 1980s.
The Egyptian themed set dressing, the spandex pants, and the monstrously massive Eddie character that walks across the stage are so over the top that – were the music not so well-constructed – it would come across as preposterous. A real-life Spinal Tap. Fortunately for metal fans worldwide, Maiden have never sung about their "pink torpedoes" or "sex farm women." For all of the cartoonish aspects of their stage performance, what the band displays in this historic performance during the World Slavery Tour is nothing short of metal at its most sincere and passionate.
Even the video recording itself was a landmark for metal. Anyone who has watched those god awful live videos during the early days of MTV will be astounded by the visual and sound quality of this concert film.
The second disc in this package contains a documentary that picks up where 2004's The Early Days left off, and is packed with band interviews and behind-the-scenes footage on the road that shows the band as surprisingly humble and funny guys. Also included is an extended version of the 1985 documentary Behind the Iron Curtain centering around the band's experiences as the first major rock band to be allowed to play shows in Poland, Czechoslovakia, Yugoslavia, and Hungary. Rock In Rio '85 has got highlights from the band's biggest performance ever – in front of roughly 300,000 fans in Brazil. All in all disc two offers over three hours of footage that will suck you in like a VH-1 Behind the Music marathon.
What these five hours of Iron Maiden indulgence do to the viewer is reaffirm the notion that Iron Maiden is perhaps one of the best, and last remaining, heavy metal acts. When a fan in a bar in Poland comes up to Iron Maiden front man Bruce Dickinson and proclaims, "I love heavy metal… I want to play heavy metal with synthesizers," and Dickinson replies, "You can't play heavy metal on a synthesizer," I feel vindicated for every negative thing I have ever said about metalcore bands today.
Iron Maiden: http://www.ironmaiden.com
---