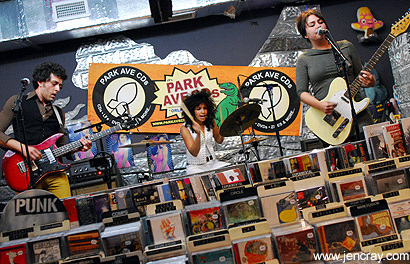 The Ettes
Park Ave CDs, Winter Park, Fl • March 5, 2008
Jen Cray
Los Angeles based trio The Ettes chose Winter Park, Florida's Park Ave CDs as the locale for their album release party. Look at Life Again Soon, the band's sophomore effort, is available as a limited edition transparent yellow vinyl release. This should not only please the audio purists, but also appease eager fans who don't want to wait around for the music to be formally released on CD later this year.
"theettes_parkave_1"
Only a smattering of fans and curious browsers turned up for the intimate gathering, but the band seemed unaffected by the disappointing turnout.
"I grew up right down the road," singer/guitarist CoCo said with a smile. "Park Ave was always my favorite record store."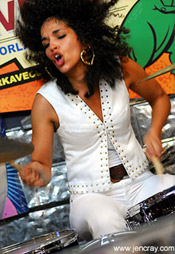 Songs from the band's 2006 Sympathy for the Record Industry release, Shake the Dust, were slipped in between a set aimed to debut the new material. "When It Rains," and "I Get Mine" stood out as the big toe tappers on the new disc.
Expanding on the Nancy Sinatra meets The Stooges vibe that the band cultivated with their last release, this trio brings the fun back into rock 'n' roll. They're irresistible, but what really makes this band a sight to see in person is the animalistic personality of drummer Poni. Her drum attacks and gravity defying afro, give the music its base aggression. Without her, the sweet vocals of CoCo would not be any less beautiful, but it's doubtful that they would have the kick that they have with the punk rock beats beneath them.
The set was recorded by students from Full Sail, as are all in-store performances, and will be released as a Park Ave CDs exclusive at a later date.
To see more photos of this show, and others, go to [www.jencray.com](http://www.jencray.com/bands_live.htm)
---