The Country Slashers
Vox Palma, Tooth & the Enamels
The Social, Orlando, Fl • Feb. 11, 2008
Jen Cray
A few prominent Orlando bands have been getting some major media attention these days. Band Marino, The Oaks, Summerbirds in the Cellar, and Between the Trees are just a few of those who seem to be well on their way to bigger and better things.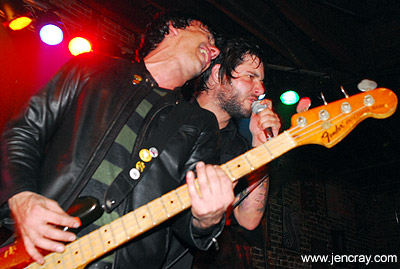 This review is about none of those bands. It's about three unsigned acts that are admidst the burgeoning punk rock scene that has been brewing in Central Florida over the last couple of years.
Tooth and the Enamels sound so authentically like the California punk of the '80s that were I to throw together a playlist that had "Brush Your Teeth" and "Eat Out Your Brains" slipped in-between music from Dead Kennedys, Youth Brigade, and Circle Jerks, only the most educated punk rock historian would be able to pick Tooth and the Enamels out as being not of that era. Their music is brash, adolescent, and inspired by zombie films and hygiene (or lack thereof). Front man Tooth (a.k.a. Paul Kemp) has got a crooked jaw and is missing his front teeth; guitarist Josh Gingivitis has got a gold grill. If all of that isn't enough to at least perk your interest, they've got a song called "Guys with Girl Hair" that targets the emo fanboys and their asymmetrical hairdos. This song comes complete with a goofy little hair flip dance by Tooth.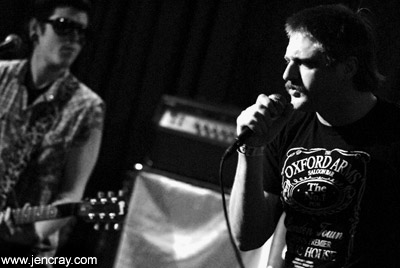 These guys act, both onstage and off, like they're piss drunk and happy to be standing up straight. I half expect them to defecate on the stage and roll around in the muck. They don't, but I wouldn't be shocked if they did. It's unpredictable, it's nonsensical, and it's fantastic!
The progressively skewed rock delivered by Vox Palma is less Calif punk and more classic rock that's been dragged through the mud of early hardcore. I've seen these guys open for Totimoshi (stoner metal with a punk rock bent) and Dillinger Escape Plan (prog metalcore), and now I'm watching them stick out as the odd band out on a punk rock bill.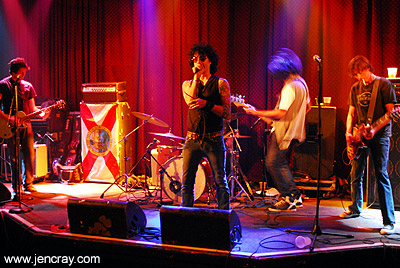 They're hard to peg down, and this will no doubt be their blessing as well as their curse. At times I can hear Aerosmith in the melodies, only to be caught off guard by a guitar riff that smells like The Cars. Then there's the influence of the Pixies which rests inside of the throat-ripping vocals of AA Villain, and again this band becomes indefinable – just the way I like it.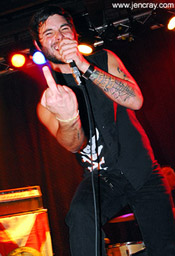 What is definable about a band like The Country Slashers is their appeal as a live act. The music jumps around from punk rock a la 1977, to southern rock splashed with '50s rockabilly, to an ever so gentle touch of old country, but their attitude onstage is just pure rock 'n' roll without subgenres. Front man and band founder, Jason Smith, has got shades of one of my all time favorite front men: Mike Weibe of Riverboat Gamblers. He throws himself across every inch of The Social's thin stage, and when the stage runs out, he climbs into the audience and on top of railings.
Filling out the rest of this quartet is a who's who of Orlando musicians. Collectively these guys have been/are still in other local notables like Mumpsy, History, My Hotel Year, and The Kick. "Never have a night off," seems to be the mantra among the members of our respectable scene in town. That, and "never disappoint."
The Country Slashers have very easily become a must-see band for me.
To see more photos of this show, and others, go to [www.jencray.com](http://www.jencray.com/bands_live.htm).
---