Crime In Stereo
The Social, Orlando, Fl • Feb. 23, 2008
Jen Cray
Christian metalcore band The Chariot brought their tour through Orlando recently for a matinée show at The Social, but it was a lesser known band on the bill that lured me out of my home before 5pm on a Saturday.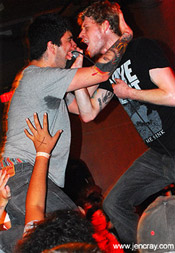 The club was filling up fast by the time openers Crime In Stereo hopped onto the stage, and after just a few songs, the Long Island boys had the majority of the crowd in the palms of their hands. Not bad for a young band that was on the verge of breaking up this past year.
Vocalist Kristian Hallbert was almost constantly bombarded with overzealous fans who wanted nothing more than to scream along into the frontman's microphone. In the bizarre parallel universe that is a rock show, an act that would be considered an absurd violation of personal space offstage suddenly becomes not only acceptable but encouraged once the amps get cranked up.
As would be expected at this sort of hardcore leaning show, it was the older and heavier songs that sparked up the most pit action with "Bicycles for Afghanistan" and "I, Stateside" causing the most disturbance. Crowded as it was, the floor wasn't quite tight enough to make crowd surfing comfortable, but the determined ones made it happen.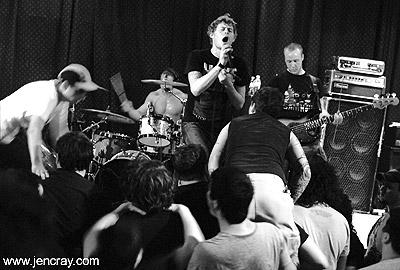 Nothing could stand in the way of a fan in need of a thrashing – not even the fear of a harsh fall onto a concrete floor.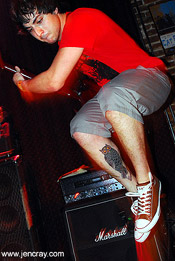 By the time the band's thirty minutes had come to a close the audience was yelling for an encore.
"Do we have time for one more, soundman?" Hallbert inquired.
Sadly, the answer came as a firm, "no."
Since when do fans demand an encore for the first band on the bill? The melodic hardcore band could have been the headliners themselves. For me that was exactly what they were. After their fan-converting set, I decided to take my leave of the place.
To see more photos of this show, and others, go to [www.jencray.com](http://www.jencray.com/bands_live.htm).
---