NOFX
No Use For a Name, The Flatliners
House of Blues, Orlando, Fl • Feb. 22, 2008
Jen Cray
NOFX may not be a band that I listen to daily, but it has found its way in and out of my personal musical rotation for over twelve years. There's definitely something to be said about longevity, especially when we are referring to a goofy ass punk band.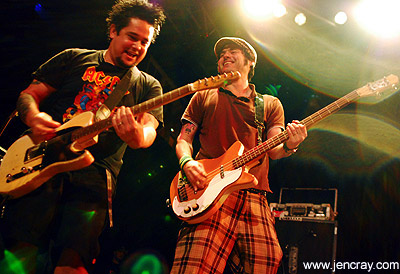 Their Orlando date sold out in advance, as usual, leaving swarms of disappointed fans to careen around the fake streets of Downtown Disney begging for tickets to join the pulsating mass that was humming inside the House of Blues.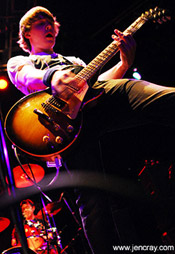 NOFX frontman Fat Mike (who's not so fat these days) heads up Fat Wreck Chords, in case you didn't know, and so the pair of openers were fellow Fat Wreck alumni.
Barely out of their teens and already touring alongside scene legends, The Flatliners should be counting their lucky stars to be on such a tour. These guys are still wet behind the ears and their songs all tend to sound the same, but there is something to them that could blossom into better things over time. Their melodies have some subtle reggae elements, but they never seemed to steer into the land of ska punk. At this stage of their career they sound like just another punk band, but I'll be keeping close tabs on them for future flourishing.
No Use For a Name is popular enough to have packed in a crowd all on its own. The NOFX sound-a-likes have been trudging along since 1987, in a classsic case of a band who can create an unforgettable moment from the stage, even if the music doesn't captivate you.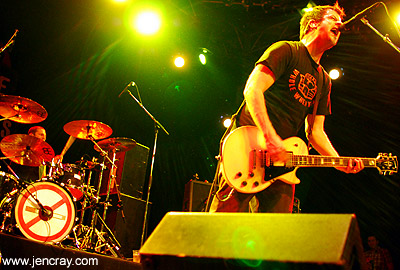 Bassist Matt Riddle played the first few seconds of the band's set wearing a pair of over-sized Mickey Mouse gloves. Guitarist Dave Nassie spent half of his time on the lip of the stage encouraging the crowd to go even further into a state of chaos and the other half hovering in the air.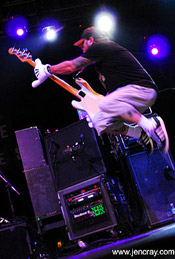 From the moment NUFAN hit the stage, the floor of the House of Blues ignited into a massive circle pit. Honestly, I spent most of the band's set watching the show that was happening in the audience. Bodies were flying over heads, exhausted fans were being dragged out. Perhaps the boldest fan of them all was the pregnant girl in front of me who was so into the bands that she had her own little pack of friends creating a protective circle.
Bodies were beaten, drinks were spilled, security guards were sweating, but nothing that occurred during NUFAN's set could even compare to the joyous madness that went down once NOFX hit the stage. Before the lights even rose up on the band who sipped their drinks and casually got into place, my arm was already drenched with beer from a tossed PBR can that landed on stage. It would appear that cheap beer tossing has replaced gobbing (spitting) as the punk's chosen show of affection for a band on stage.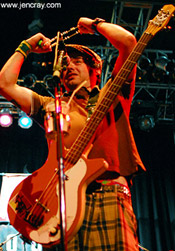 "We set records for bar tabs at shows because our fans are alcoholics and drug addicts," Fat Mike said to the wild crowd.
NOFX is one of the last few third-wave punk bands that's still going strong and still bringing out fans of all ages. Alongside Bad Religion (whom Fat Mike referred to as Bald Religion), Social Distortion, and Rancid, they are of a dying breed of California punks who have not only never changed their sound, but never had to in order to attract new fans. They played "Stickin' In My Eye," "Liza and Louise," "Murder the Government" and a whole bunch of other old songs whose names I can't always remember, but whose lyrics I can sing along to. They'll never be able to play every song that you want to hear because they've simply got too many to choose from, but if any NOFX fan walked out of the club unhappy that night, they'd deserve a good slap in the face.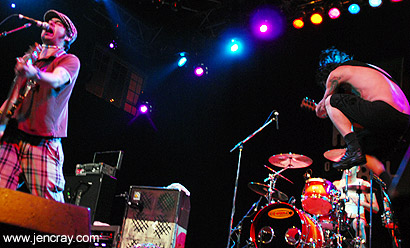 They're still making music, they're still selling out shows, and–as they pointed out during one of many, many conversational moments during the set–"[they] still got all [their] hair." That's more than most bands can say after 25 years of making music together.
To see more photos of this show, and others, go to [www.jencray.com](http://www.jencray.com/bands_live.htm).
---