Time Again
The New Threat, The Attack
The Social, Orlando, Fl • March 29, 2008
Jen Cray
After a sorely disappointing trek to the world of Taste of Chaos, I reveled in the musky sweat of a much more personable Time Again gig at The Social. There's something soothing about going from the inflatable corporate cleanliness of a mainstream rock show to the unregulated chaos of small time punk rock.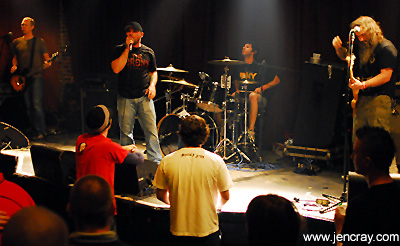 While bands and fans mingled, I washed the previous night's stench off and settled in for a pair of local acts get set to ease us into a bullshit-free evening of music.
Both The Attack and The New Threat play like modern concepts like MySpace, blogs, and mp3s never happened. The music, and the overall vibe, take back to the days when hardcore had an identity completely separate from other areas of music. Those days hardcore was a way of life for many, not just a Friday night fad. These two local packs may not be household names outside of this fair city, but they brought in a sizable fan base. The New Threat (also known as TNT, and previously called Ten New Toes) had at least a dozen fans who actually left after their set, having paid the admission price to see them alone. "I don't care to see Time Again," one TNT fan told me, "I like Rancid."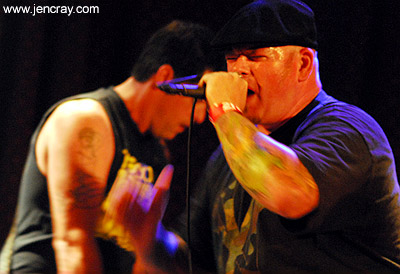 So there it was, earlier than I had expected, the Rancid comparison. Yes, Time Again are second generation Rancids, and they even call Hellcat Records home (Rancid vocalist Tim Armstrong's label). I've disregarded this California band in the past myself so I can hardly blame anyone for doubting the band's integrity, but ya know what? They're a great live band, and their recent release Darker Days is one giant step forward to becoming a band that deserves to be judged on its own merit.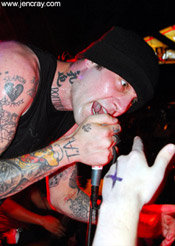 Opening with "Day Like This" followed by "Junkies," the tortured mind of front man Daniel Dart was laid bare. Having openly talked about his past drug addictions and rehabilitation through music in the press, I can only imagine how twisted it must be for him (or any musician in a similar position) to struggle to become sober only to spent night after night entertaining kids who are piss drunk and having a great time at his feet. It's an unenviable position that he's put himself in.
Dart's persona, both on stage and off, is quietly intense. He walks the edge of the stage, leans into the arms that reach out to him, but somehow seems guarded. He's not a jumper and he doesn't dive into the audience, at least not since I've seen them play, yet there's a presence about him that's absolute.
While Dart kept everyone guessing about what was going on behind his eyes, his band mates played like it was a party. It's the trio of Elijah Reyes, Oren Soffer, and Ryan Purucker that hold this band grounded in the moment. I'd like to imagine that Dart would just as soon wander off into the dark streets to explore the night's city, and that it's his band mates that help him channel his energy into the performance.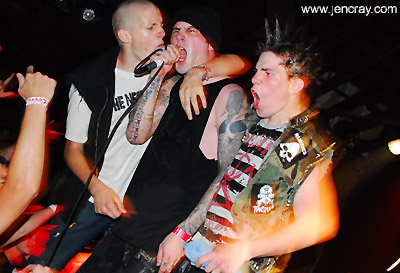 The band exited the stage, but shouts brought them back quickly. Answering the repeated shout outs for it, the band encored with "Outcast" during which fans stormed the stage to share on vocal duties.
To see more photos of this show, and others, go to [www.jencray.com](http://www.jencray.com/bands_live.htm).
---