The AP Tour
All Time Low, The Matches, Sonny, Forever the Sickest Kids
House of Blues, Orlando, Fl • April 18, 2008
Jen Cray
Alternative Press Magazine's third annual tour has reached an All Time Low. If this is what's popular among American teenagers, I fear for the upcoming generation of bands who were weaned on such drivel.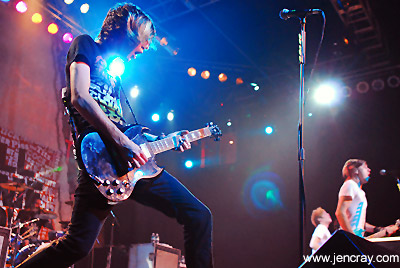 At just $13 a ticket for six bands, this tour was in the very least a good bargain for fans. It was no surprise that the House of Blues show in Orlando sold out.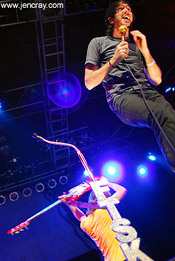 Brightly colored ADD kids, lost somewhere between Saturday Night Fever and Hot Hot Heat, go by the moniker Forever the Sickest Kids. The cinematic Tristar Pictures theme music played as they stepped out onto the stage, setting the tone for an evening heavily reliant on the dance pop of the Eighties. The wildly happy and energetic bunch didn't offer much more than just a dance party, but – lucky for them – that and a pretty face was all this crowd seemed to have come for. They danced about on-stage while tossing out Top 40-ready nuggets like "Hey Brittany" and "Believe Me I'm Lying" and the audience seemed set to eat them up with a spoon. My prediction is that these guys are going to become familiar faces in the upcoming months.
When Sonny Moore left From First to Last in 2007 to pursue a solo career, I didn't pay much notice. Now that I've seen what the little man has been working up in the studio on his own, I care even less. The indiscriminate noise that this discombobulated band made blended hip hop, emo, and club music in an indigestible mixture. The only redeeming elements of this "band" were drummer Sean Friday and guitarist Chris Null. The rest, Moore in particular, were like a bad imitation of Ugly Kid Joe… only worse. Even climbing his way from one end of the audience to the other couldn't save this sad display.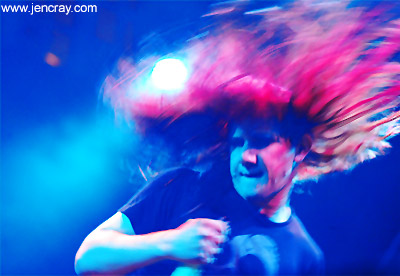 If we're grading on a curve, The Matches aced the course for best band on the bill. Dapper in dress, looking much like Orlando Bloom dressed up like Ducky from Pretty In Pink, vocalist/guitarist Shawn Harris was a captivating front man who didn't have to constantly reach for the audience or run in circles around his band mates to hold the crowd's attention. The music was not quite so effortless. Where once they were just another pop punk band with emo leanings, this California four piece are reaching for mainstream pop land in their latest music.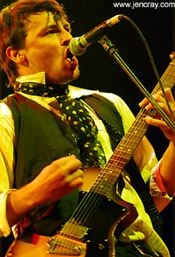 They're the eldest bunch, having been a band since 1997, but a youthful air and lighthearted modern A.F.I.-like approach to their genre make them a perfect fit on the AP Tour. I won't go so far as to call myself a "fan," but I will say that their 30 minutes on-stage were the bit that I paid the most attention to. At one point they were joined by All Time Low singer Alex Gaskarth, which garnered all kinds of Teen Beat heartthrob screams.
The band that I had otherwise only known as "the kids with the weird haircuts who always get photographed in their underwear," are this year's Fall Out Boy or Panic! At the Disco. They write the same simple emo pop songs that pushed those bands into the stratosphere of celebrity. They've got pre-teen crush-worthy looks, and a non-threatening stage presence that wins over the parents in the crowd as well as their kids. Sure, they've got the words "cock" and "balls" written on their amps in duct tape, but this can be shrugged off as the same sort of goofy humor that made Blink 182 huge.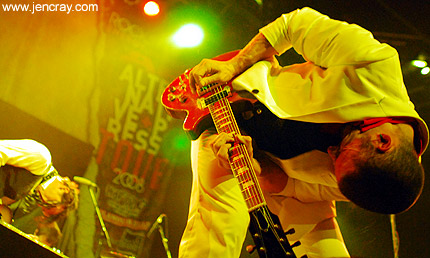 Blink 182 is the Nirvana to the generation born in the late Eighties. When their "classic" songs were played before All Time Low's set, it became a massive sing-a-long and my rationalization of it is this: in the late Nineties when Blink blew up, they were the antithesis to popular music. Those were the days when 'N Sync, Backstreet Boys, and Britney Spears reigned. Blink was punk in the eyes of the young, when compared to manufactured pop. It makes perfect sense that those fans who grew up watching them went on to start bands of their own and cite them as a major influence.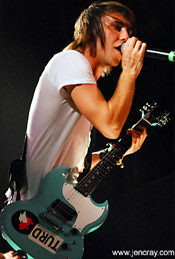 All of this rolled around in my head as I tried to listen to All Time Low with an open mind. "Six Feet Under the Stars," "Dear Maria," these are the exact same songs that Fall Out Boy wrote when they called them "Sugar, We're Goin' Down" and "Dance, Dance." They're catchy no matter how high the listener's resistance to them. It doesn't make them good, but at times I find my head nodding along because – dammit – I'm not made of stone! A good melody can overtake anyone if you forget to hate it.
As co-headliners, All Time Low share top billing on this tour with The Rocket Summer. ◼
To see more photos of this show, and others, go to [www.jencray.com](http://www.jencray.com/bands_live.htm).
Forever the Sickest Kids: http://www.imeem.com/foreverthesickestkids
AP Tour: http://www.altpress.com/theaptour
---