Tapes 'n Tapes
White Denim
The Social, Orlando, Fl • April 28, 2008
Jen Cray
In the immortal words of Sebadoh, "Gimmie Indie Rock"…but keep the elitist attitudes to yourself, I'd like to amend.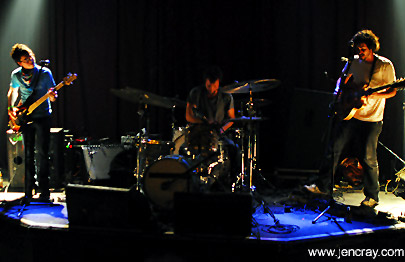 Swallowing the snobbish fronts of the so-called "fans" who go to these college rock shows just to say that they were there is the hardest pill to swallow when I head downtown to catch a buzz band bill. There must be some of you out there who know what I'm talking about. The offenders could be the drunken girls who spend the headlining band's set talking to one another loudly, it could be the angry hipster who looks pissed off at your presence, or it could be the bored dude standing near the bar who doesn't want to move out of your way when you try to pass.
Did no one ever teach these people that concerts are supposed to be fun? That music should bring you elation, or at least make you feel something other than boredom or contempt?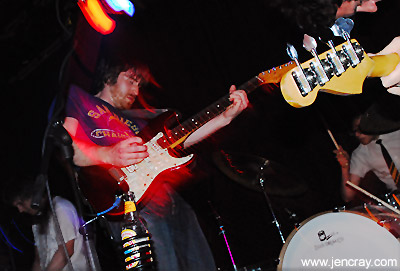 Hopping on-stage in front of a scattered room, Texas' White Denim eased us into the night. I had been excited to check out this garage punk blues trio, but their set felt uninspired. The elements of sound were there – the drummer's beats were vicious, vocalist James Petralli had all of the nuances in his voice that gave me chills on their records, and bassist Steve Terebeki had the bottom section full of funk. Yet, something was missing. Even when they played the song I was waiting to hear, "Mess Your Hair Up," I didn't get that charge I'd been expecting.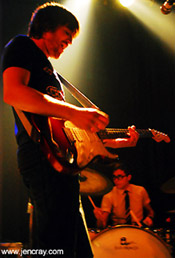 They just seemed to be going through the motions. On record, their music is all over the place. It taps into the electronic, it's got subtleties of country, and it's got a feeling of spontaneity that's unpredictable. These qualities did not translate into their live performance in Orlando. Maybe they were just having an off night.
Tapes 'n Tapes did little to make up for the energy that was lacking in White Denim's set. Once more, the sound wasn't the problem. When I caught the band on their 2006 trek through town, their Pixie-esque songs were delivered with a jumpy fervor on the part of singer/guitarist Josh Grier that just wasn't present on this tour. The audience wasn't demanding it, so maybe T 'n T is simply one of those bands that relies heavily on the crowd's energy or maybe they were having an off night too.
The new songs from Walk it Off sound better live than on record, and the songs from The Loon that they tossed into the set were much appreciated, but all in all it was a stale night for indie rock.
To see more photos of this show, and others, go to [www.jencray.com](http://www.jencray.com).
Tapes 'n Tapes: http://www.tapesntapes.com ◼
---