The A.K.A.s
Backbooth, Orlando, Fl • May 9, 2008
Jen Cray
The A.K.A.s haven't had the best of luck with Florida audiences in the past, frontman Mike Ski confessed to me before their recent show at Orlando's Backbooth.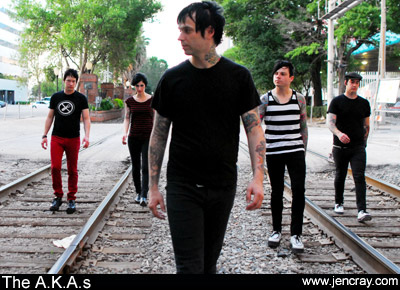 "Florida isn't that into us," he added with a shrug. "It's very hit or miss down here."
The curse they'd felt on prior tours opening for Big D & The Kids Table, and then for Wednesday 13, was about to be lifted as Orlando finally seemed ready to open its arms to the Philadelphia five piece.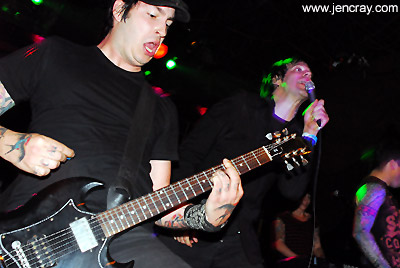 The A.K.A.s is one of those bands that sounds good on record, but incredible live. It's their enthusiasm, their fashion, and especially the theatrical nature of singer Mike Ski that give their songs added life on-stage. His facial expressions, hand gestures, and in-your-face stage approach are reminiscent of the original frontman for Dead Kennedys (and the only one worth mentioning), Jello Biafra. As fate would have it, Biafra guest stars on the band's latest album Everybody Make Some Noise. The song he lends his voice to, "Everything is a Commercial," was sadly missing from the evening's set, but there were still enough catchy melodies stirring around the black walls of the club to more than make up for its absence.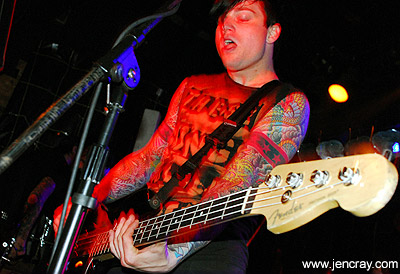 A wonderfully communal moment happened during "Dead Flowers Forever" when the audience screamed along to the chorus – "Valentine Days! Halloween Nights!"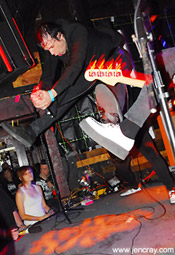 There may not have been a pit forming at the feet of the hard-working band, but there were many voices singing along. Not one rude comment was shouted up at the band, so that's progress I'd say! In fact, a few fans had gone so far as to make posters dedicated to the lone woman in the band, keyboardist Josie Outlaw. "Make me an Outlaw, Josie!" they read.
After the packs of newly-converted fans huddled around Ski and bought up plenty of merch, I was able to squeeze in alongside the sweat-drenched singer and congratulate him on a successful set.
"I guess some people seemed to be into it," he said modestly.
The band will be doing 15 dates on this summer's Warped Tour before getting a much-earned break. Catch them soon and tell them that Florida sends its love!
To see more photos of this show, and others, go to [www.jencray.com](http://www.jencray.com/bands_live.htm).
The A.K.A.s: http://www.theakas.com ◼
---