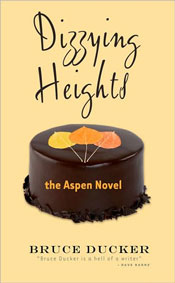 Dizzying Heights
by Bruce Ducker
Fulcrum Publishing
"Dizzying Heights Cover"
Waddy Brush is a bright, ambitious programmer who is destined for layoff. His patriarchal employer ditches him at the first sign of a buy out, and he flees humid Seattle for the uber wealthy mountain enclave of Aspen. There he hooks up with huckster Dooberry and his bi-sexual Brazilian wife, Falvia. They hatch a scheme to collect your private fantasies, merge them with your credit report and a virtual reality of sex and targeted sales. Financing is easy; the town is full of old money and new pigeons, and the entertainment drips from the mix of cranky locals, ambitious newcomers, and Waddy's naivety and desire for sex. It's a bit rough, but entertaining enough for a week at the beach or a long connection through Hartsfield.
Author Ducker pursues the Carl Hiaasen method of creating quirky characters and outlandish situations, then dicing them into short segments and mixing them up so that tracking individuals becomes a challenge. Ducker also uses some unconventional typesetting for reporting conversation, so more than once you are half-a-page into a conversation before you figure out who's talking to whom.
The story line is well constructed, and it sounds like Ducker knows the Aspen lifestyle and social register. The fundamental problem with Dizzying Heights is the use of software development as a plot point. While tech writers such as Douglas Coupland excel at incorporating code writing into fiction, Ducker has a laughably naive view of the topic – he even makes poor Waddy go though two 200-page files of ones and zeros looking for differences by hand. Most middle school students could write a program to do that during recess.
For all that, Dizzying Heights is a fun read, and can easily fill the time between airline connections or Mai Tais at the beach. Too bad the author drops into the second person at the end and promises a sequel. I hope he takes a community college class in C++ first; he needs to get those details at least halfway right.
Fulcrum Books: http://www.fulcrumbooks.com
---