Mortarville
by Grant Bailie
IG Publishing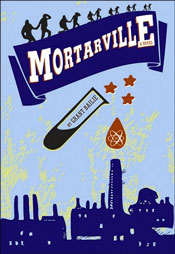 Let me tell you about the future. It ain't all it's cracked up to be. In the vicinity of Mortarville, people have taken to either growing test tube babies or rioting against them. Without the concrete industry to amuse the populace, the business of collecting and raising the children of "better living through chemistry" occupies the town's resources. When these techno-waifs reach adulthood, they riot and escape to the world outside. This is no race of Aryan supermen; these scientist parents have exercised the god-like ability to live only for turning out a new crop of middle managers. Mortarville focuses on the story of Jack Smith. Conceived in the pages of The Handbook of Chemistry and Physics (CRC Press, ISBN 0849304857, 7.6 pounds hardcover), he was raised on re-runs of Ozzy and Harriett, and now he manages security at the Mortarville terminal mall. This story is no Brave New World, it's just today with the Joy of Sex stricken from our lives.
Bailie's book is sliced into tiny chapters like a novel structured from a film script such as The Da Vinci Code. His story unwinds in a creepy and unfulfillable manner, and not until the very last pages does its true emotional impact leap out, punch you in the face, and steal your wallet. Bailie's Mr. Smith wonders little about food, sex, or money, but focuses on "who is he and where is he going?" The depressing answers are "no-one and nowhere," but the minutia of life keeps him occupied and unreflective of any grand cosmic scheme. The small details of his life may be his only rewards – a hot tuna casserole, a woman who tolerates you, and a boss who is as disinterested in you as you are in him.
This existence is not the post-apocalyptic world of Terminator 2 or American Cyborg, but the world of lost ideals, ambitions, and broken dreams piled atop the ruins of something better. You might as well be in 9th century Rome. The fact that things are bad is one thing, but knowing there used to be a better world is what really stings. It could happen to all of us quicker than you might imagine. Mortarville – read it while there's still a chance.
IG Publishing: http://www.igpub.com
---