33 1/3 – Pink Moon
by Amanda Petrusich
Continuum Books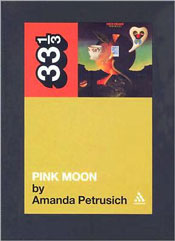 I was handed this book directly by my editor – and loving Nick Drake as much as I have for years, I thought this was going to be one great read for me, so I made plans to read it on the long flight back home to the U.K. So on my iPod, I put Pink Moon on repeat and thought I'd immerse myself totally while I read the book.
I was instantly put into a calm, yet emotional mood by the music, and as Nick sang, I lost myself in the stories from other musicians of how Nick Drake's Pink Moon has touched and inspired them in the biographical moments of his life and in the events that directly led to his death. The stories that were told weren't all covered in hearts and flowers, very much like his life – some of them were so ugly they were beautiful. Nick Drake was a broken man who let his feelings come out in song and touched the lives of many. He is one of a select group of songwriters who can move one to tears, joy, and pure pain with a few strokes of his pen by unleashing his inner demons on the world.
The 33 1/3 series is brilliant in its simplicity – tell the story short but sweet and have some blurbs from admirers. This particular book is no exception. There is no "slant," there is no "secret," it's just Nick Drake with no mask and the author executes it wonderfully. It's a perfect balance of story, admiration, and cold, hard truths. His life in the public eye wasn't very long and he has found more listeners after his death, but while it lasted, it was like a comet.
Continuum Books: http://www.continuumbooks.com
---