School of Senses (Érzékek iskolája)
directed by András Sólyom
starring Dorka Gryllus, Attila Kaszás, Lajos Kovács, Dorottya Udvaros
Bunyik Entertainment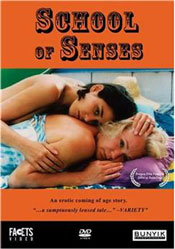 This explicitly erotic love story is one of the best Hungarian films I've seen in a long time. Lili (Gryllus) lost both parents young – mom died in childbirth, dad of suicide when she was four. Alone in the world, she cleans rooms at a big hotel and meets the very married philanderer and entrepreneur Márton (Kaszás). They start an affair with Lili well aware of the situation. She falls madly in love with him, he rejects her, and they survive a bad car crash – he unscathed, her missing both legs below the knees. She now lives in his spare flat in Budapest, cared for by the boorish but gentle Naxos (Kovács). He's not as romantic, but the sex is OK as he IS Greek; Lili doesn't mind Márton's lack of divorce, and she's willing to live with the situation indefinitely so long as they can get together occasionally. When it becomes obvious he won't even provide her with that, she wheels furiously across Budapest traffic to confront him one last time.
Director Sólyom assembles a beautiful and believable romance with well-defined players, lusty sex scenes, and a dramatic but completely believable resolution. Gryluss's charm is not in her innocence, but her complete acceptance of the sensuous world that she finds completely natural. Márton sports the standard Yasser Arafat three-day beard so popular in the mid '90s, and his sexuality and disregard of anyone else's feelings mirror the era as well. You'd like to meet his wife and find out more about their relationship – she obviously knows what is happening, but the best you will do is an introduction to Szépasszony (Udvaros), another abandoned but very sexy female who seduces Lili out of sheer boredom.
Nothing is mysterious here, all the players make perfect sense at all times in this adaptation of Péter Esterházy's novel Seventeen Swans. I'm not sure if this ever got off the art house circuit in its first release, but this widescreen DVD is a gem. Special features are slim, but the English subtitles display nicely below the letterbox image. This is a movie for lovers, whether in the first flush of lust or the last crumbs of departure. The Huns may have ravaged Europe, but they have left us the heart of a Gypsy – loving, possessive, and brutal.
Bunyik Films: http://www.bunyik.com
---